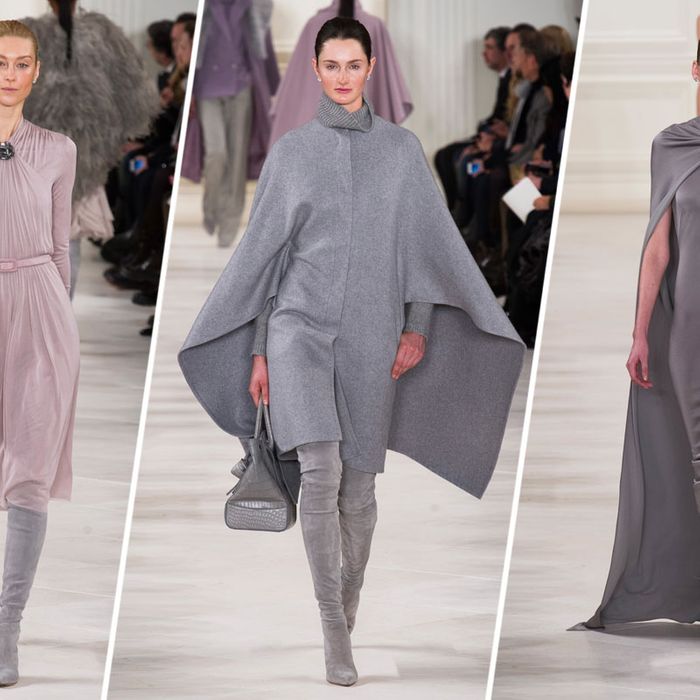 Regardless of the season, the question to ask when considering a Ralph Lauren show is not whether it was good or bad. This brand runs like a well-oiled machine — the likelihood that the designer and his team will produce a notably bad collection is a bit like expecting Starbucks to make an undrinkable coffee. It could happen. But it won't.
That team has created such a potent brand that if you stopped 10 people on the street, they could undoubtedly pinpoint the label's precise characteristics in 25 words or less. This is blessing for a designer like Lauren, who is content to work in a particular vernacular. Lauren shows no desire to step outside the confines of a warm, lucrative, and widely admired comfort zone. Fine.
But how often has he stepped outside his actual home during this long, slushy season? Despite an overnight snowfall and unshoveled sidewalks that left fashion editors and retailers wondering if they'd get a snow day (or at least a snow morning), Lauren put his fall 2014 collection on the runway bright and early Thursday. Who could blame him? The samples were done, the venue was organized, the chandeliers were hung, and the floral arrangements ordered. So it was more than jarring to witness Lauren's vision of cold-weather gear — with his dove-gray, suede over-the-knee boots, mauve cashmere capes, ivory cashmere sweat pants, and cream leather sneakers — after having done a back-country hike through freshly fallen powder and face-pelting sleet. It was a bit like stepping into an alternate universe — not one that made you swoon with desire but one that basically alienated you.
Of course, Lauren is not to be blamed for the bad timing of showing a collection that, in its usual private-jet sensibility, seemed to mock the reality of people who don't have drivers to transport them around the city during inclement weather. So let's move on from the practicality of the clothes to their beauty. They were lovely: refined, beautifully constructed, and luxurious in appearance. In particular, Lauren's use of Wall Street–gray for his formal evening gowns, which were ornately beaded or stitched from silk jersey, refreshed the classic silhouettes.
Lauren also put his Polo brand for women on the runway. The younger and sportier line was filled with leather skater skirts and brightly colored sweaters, puffer jackets, and woolen anoraks. Reliable. Commercial. Good. Strong. Fashion's equivalent of another perfectly pulled latte.