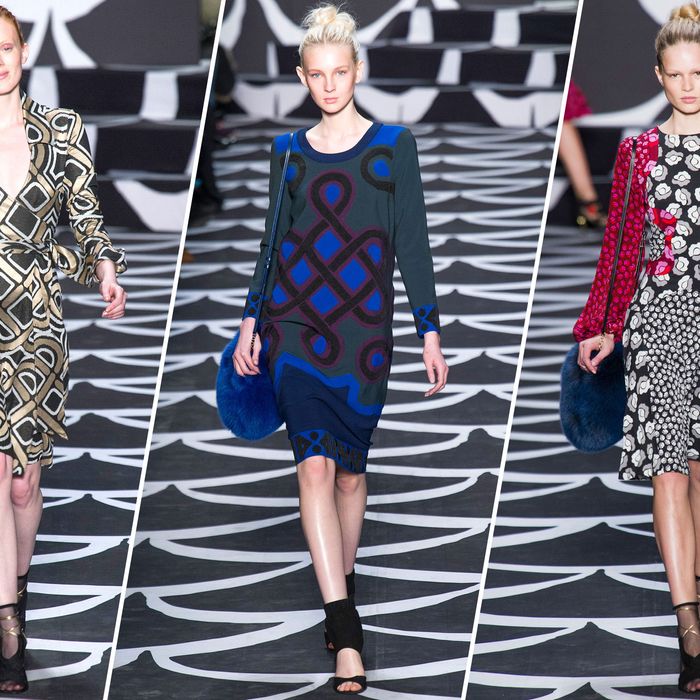 Smiling.
It's one of the first things those from the outside world notice about a fashion show: Models don't smile. Why look so grumpy while wearing nice clothes, walking in the spotlight, admired for your good looks? Add it to the enduring peculiarities of the fashion industry that confound ordinary citizens.
So, even though it's a small detail, it's significant that Diane Von Furstenberg's models smiled and gazed pleasantly at the audience and cameras during her fall 2014 presentation. They appeared approachable and welcoming. Real. It's one of the ways in which Von Furstenberg stands apart from her peers.
In her shows and in her work, the designer tries to break through the wall separating fashion from the rest of the world instead of attempting to build it higher.
Von Furstenberg doesn't weave an elaborate fantasy. Why bother to invent one when you have lived one — and learned that even fantasies aren't perfect? She married a prince, partied through the 1970s, created a simple jersey dress in 1974 that wrapped around the body and flattered most every woman's physique, and landed on the cover of Newsweek as a style icon in 1976. Since then, the business has had ups and downs. But both she (as a style icon), and her wrap dress (as a wardrobe staple), have remained relevant to generation after generation of women by keeping her fashion as close to reality as possible — not by exuding show-you-my-flaws empathy but by making plain her strength and confidence, cheerleading other women to do the same, and encouraging a détente between everyday women and the fashion industry.
Her message: They're just clothes. And they should be useful, inspiring, fun — a little sexy.
No matter that she lives a rarefied life of wealth and privilege, her clothes suggest that she understands what it means to run household errands during lunch hour. She remembers what it was like to strive for big things while still at the bottom of the corporate ladder.
Von Furstenberg celebrated the 40th anniversary of the dress that built her business during her fall show at Spring Studios, where floor-to-ceiling windows offer sweeping views of the city. The collection on her runway was pretty, sophisticated, and easy. Typical Von Furstenberg, but this time, especially focused and smart. Dresses and skirts in black- and taupe-cloud prints were cut with simple, body-conscious lines. Roomy coats stood away from the body. Energetic, joyful, and elegant prints were happily vibrant, for a woman who doesn't shy away from being the center of attention.
The color palette shifted from understated neutrals to dynamic combinations of lilac, violet, and burgundy. There were shades of navy- and sky-blue. And competing vibrant prints bumped up against each other in wrap dresses and skirts. The finale included an array of pert metallic-gold wrap dresses in lace, Lurex, and jersey — offering an emphatic reminder that her signature dress remains as relevant as it ever was.
As Von Furstenberg strolled around her U-shaped runway to take her bows, it was impossible not to admire her longevity and realize that for all of the celebrity attached to the woman, her clothes are among the most impressively pragmatic that fashion has to offer.
And in that quiet — but not boring — practicality, she has something in common with a group of designers whose clothes don't attract the full attention they deserve in the breathless conversations of Fashion Week. Their small-scale shows are calm and without drama. Chocolate doesn't stream down the walls during their presentations. They don't dabble in sable. Their fashion isn't an exegesis on feminism. They just show good clothes.
Tracy Reese had a very pretty collection that emphasized her vintage-inspired aesthetic. Her long, mustard-colored knit cardigan was delicately constructed and her dramatic winter-forest prints deeply romantic. Thakoon Panichgul presented one of his most assured and focused collections in some time, filling his runway with rich hues of fuchsia and orange, charming knit capelets, and vivid floral prints incorporated into a down overcoat. And Victoria Beckham, a celebrity who turns out clothes that don't hog the spotlight, offered elegant overcoats that used gold chains for closures and had insets of pleats cascading down the back from shoulder to hem.
None of these designers has hit upon an idea as simple and as extraordinary as the wrap dress. But they all seem to be striving toward the admirable goal Von Furstenberg set out a long time ago: to create clothes that allow a woman to be the best version of herself.