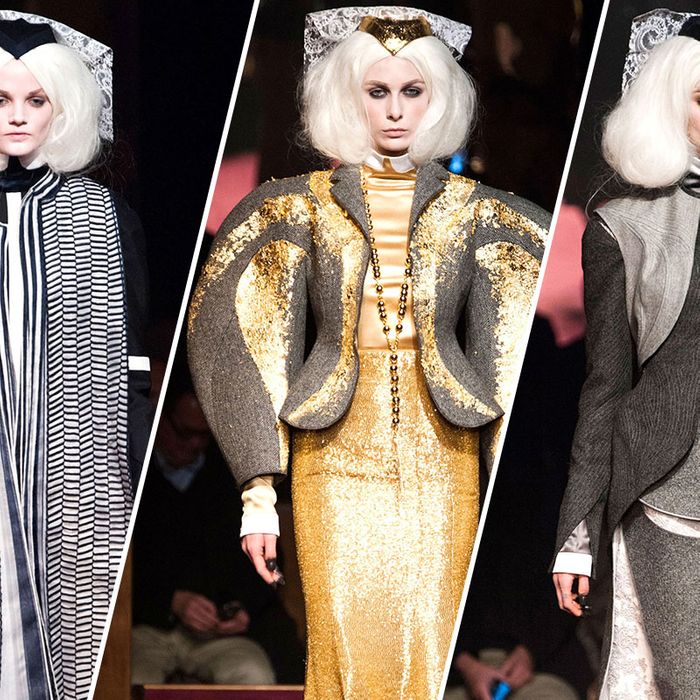 The sacred rites and ecclesiastical garb of the world's religions have always fascinated fashion designers. The clothes, from clerical gowns to Buddhist robes, can be quietly, soulfully beautiful and are almost always steeped in history. The elaborate rules and traditions present an opportunity for rich, visual debate among designers who want to explore the roles of women and the social and political influences of particular dogma. Most obviously, sometimes designers simply can't resist taking a run at taboos. They revel in eye-popping transgressions.
This was the territory that designer Thom Browne explored in his fall 2014 collection. On one of the upper floors of a Chelsea loft, he constructed a temporary sanctuary line with wooden pews, kneeling benches, and simply cut crosses that he affixed to the walls. The room was lit, in part, by candlelight and heavy clouds of incense scented the air. Choral chanting rumbled in the background and black-robed acolytes, with their white-lace underpinnings, knelt around the elevated runway.
Browne has shown a fascination with the sacred before — drawn in, perhaps, by its combination of ascetic rigor and formal ostentation. The setting on Monday evening drew from Christianity — both Protestantism and Catholicism. The models' hair, covered in cumulous cloud-like wigs, called to mind nuns, while their charcoal-gray garments — balloon skirts, elaborately structured blouses with bellows-shaped sleeves, and jackets with big, round molded shoulders — made one think of the stiff Sunday robes of ministers.
The appearance of the models on this altar of a runway reminded one of the difficulties women face in navigating some church hierarchies — the traditions that keep them from the highest roles of leadership despite their yeomen's service to congregants. By the time they started to emerge draped in gold — from embroidered skirts, seamed dresses, and gilded jackets — it felt as though they had stepped from some vault of plundered wealth in the darkest recesses of the Vatican. Here was the church leadership, the bureaucracy, and the politics. The grandiose inaction. The hypocrisy.
The collection spoke of the tension between two extremes found in the church: its unglamorous work in caring for the least among us and its self-satisfied ostentation; its humility and its decrees. That Browne's models dared to mock, protest, or simply exploit church imagery also called to mind the bravery of the members of the Russian punk band Pussy Riot. Does religion free us from our fears or tether us to them?
One of the most famous examples of a designer finding inspiration in religion was Jean Paul Gaultier's fall 1993 collection, which was based on the traditional dress of the Hasidim. But Gaultier didn't so much as interpret their garments as appropriate them. He dressed his models in the Hasids' long black coats, mimicked their side-locks, and made replicas of their tefillin.
Nothing on Browne's runway was so obvious. Even the golden crosses hanging from the model's neck had been clipped, with half the crossbar missing. The manipulation of that powerful symbol unhooked the collection from the narrow sanctity of religion and allowed it to become an even broader commentary: How do we all define ourselves in a world of haves and have-nots, of economic disparity, of one-percenters?
Browne is an expert provocateur. And one is willing to give him great leeway in setting forth his vision. So, for example, one is willing to countenance the argument that a hobbling skirt is a reflection of the way in which religion often attempts to control and restrain women.
But above all else, Browne is a designer. And his work for fall incorporates exquisite fabrics, polished finishing, and dynamic silhouettes. One could extrapolate from these commercial notions that a woman might realistically bring home. The architectural lines lend his jackets and dresses a seriousness that, once the drama is tamped down, could fit into a business setting. The lustrous gold dresses could, with a dose of restraint, find a place at a cocktail party.
And here, we must go back to that hobbling skirt. As a designer, there is no way to salvage a bubble skirt cut with a hemline so narrow that it limits a woman's mobility. It has no aesthetic justification. Watching a model mince her way around a runway is always a painful distraction — even in a show that is one sweeping, engaging, unrepentant, beautiful indulgence.
Give a model a balloon-shaped jacket. Put her in a puffy wig. Put religion under a spotlight. Mix the sacred with the profane.
But give a woman her dignity; give her room to move.
May the church say, "Amen."