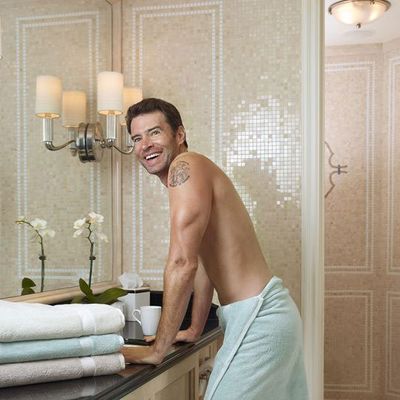 If there's anyone who seems put on this earth for the purpose of selling a quality towel line from Bloomingdale's, it is Scott Foley. Since his Felicity days, he's exuded this kind of puppy-cuddling, safe-hot aura. Not dangerous sexy, but slow-burn sexy — the kind of guy who always remembers to use fabric softener when he puts those investment linens in the dryer. He shares chores, and that's sensual.
Well, here's Foley fulfilling his life's purpose as a spokesmodel for Charisma, a line of fine bedding and bathroom linens. In the video, a towel-clad Foley utters the line: "I would say that I never feel sexy, but my wife has told me that I am sexy, and people on Twitter tell me that I'm sexy, so there must be something there, right?" Right.

Look at him casually sipping coffee in a maturely decorated bathroom, with that perfectly draped towel. Watch as he fake-reads that self-help book between high-thread count sheets amid all the throw pillows. Cue the porny music — oh wait, the producers already did — Foley is one towel slip from an NSFW-rating.