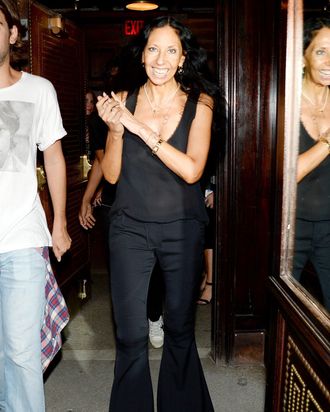 Photo: Joe Schildhorn/BFAnyc.com/BFA NYC
The expanding Inez van Lamsweerde and Vinoodh Matadin empire has been well-documented: The photographer spouses have already collaborated with Byredo on a fragrance, started their own jewelry line, and soon, according to Van Lamsweerde, there will be Inez & Vinoodh jeans. We caught up with her backstage at the Jason Wu show (after her long, congratulatory embrace with the designer) and talked to her about fragrances, furniture, and, of course, Uggs.
How's your jewelry line going?
Oh, it's good! We're presenting the new collection next week at the Mercer Hotel. This is the newest thing — [shows off her hands] they're interlocking rings. It's fifteen different colors, enamel and gold.
That's great. Are you planning any other big collaborations?
I think there will be. I don't think I can say it yet, but there will definitely be a jean.
With who?
I can't say yet.
When's that happening?
That will be for the fall.
And what about home design?
We have about 4,000 ideas for furniture and things, but, again, we need to find the right partner. We like partnerships; we like collaborations. We're not so much into do it all yourself. We'd love to have the expertise of people who actually know what they're doing. But there are so many ideas.
Is there any dream person you'd like to work with?
It's probably more about finding the people who can produce it with us, like a great Italian manufacturer, something like that. The design we could do; it's really about the make and having it made incredibly well. There are so many ideas. We have endless ideas for fragrances, for bags …
Another Byredo fragrance?
Maybe, I don't know.
One sold well. [1996, the first Byredo fragrance.] 
I think it was his No. 2 seller from his women's collections. I think there will be things like candles, because that scent is so incredible. We keep having more and more ideas. Because for us, the ideas come with the photographs. That's why, with everything we do, this would lead to that — this would lead to a fragrance, or that could lead to a piece of furniture.
So you're thinking about your lifestyle brand.
It's not necessarily that calculated, or figured out as such. It's just that we have so many ideas and we're constantly with the most creative people around and learning from them, and seeing things, and being inspired. It's like making still lifes.
I need to ask you about your Uggs, too.
I was thinking that I was probably the only person here wearing Uggs. I am.
Is that a point of pride?
No! I'm kind of baffled how people are handling shoes in this weather. I'm learning from everyone here. I'm thinking, What else is there but Uggs? But people seem to ignore the snow and wear their heels. But I'm too scared. I like how big they are. Our dog loves to eat them.