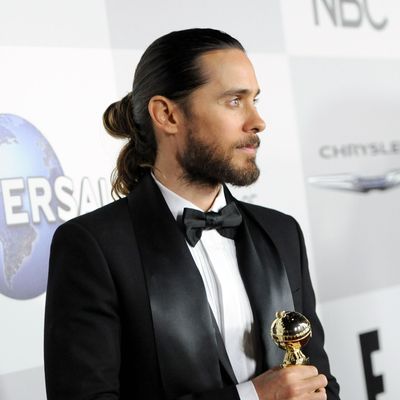 Photo: Angela Weiss/Getty Images
Chase Kusero, Jared Leto's long-time hair stylist, has been hard at work strategizing potential Oscars hair looks for the nominee. There was apparently a plan to cut Leto's hair prior to the ceremony and shock us all, but they couldn't bear to do it. Kusero told Into the Gloss:
It's really important that he doesn't look like a woman—that's the biggest challenge. It's been hard to have him not end up on the 'best hair' lists—and that definitely hasn't been our intention.
Kusero said he considered a (manly) side-parted, low bun at one point, but "the big thing on my shoulders right now is if the hair is gonna be up or down — I'm voting up, because we've only done it maybe once before."

Then, in a surprising turn of events, Kusero admitted to liking the "wet look." If Leto does plan on channeling Beyoncé's Grammys hair, he should take a cue from stylist Wesley O'Meara and try using K-Y Jelly.