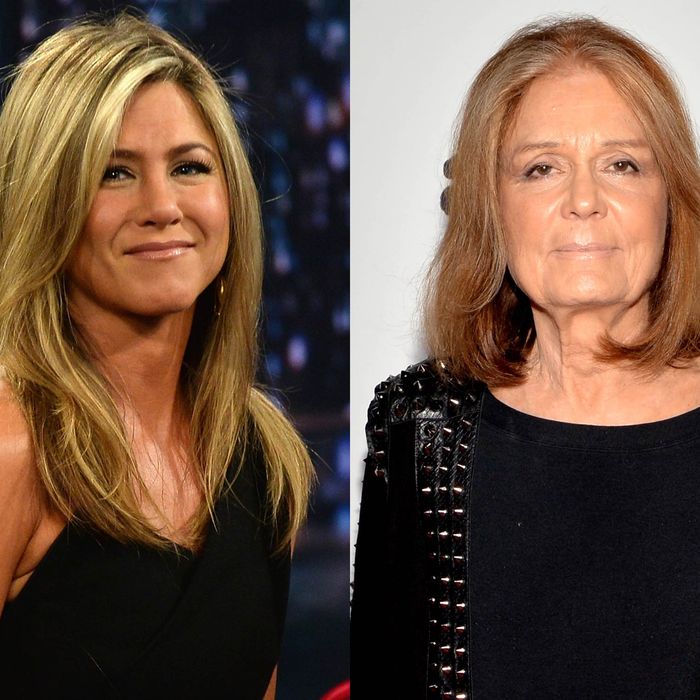 Photo: Theo Wargo/Getty Images, Andrew H. Walker/Getty Images
At the Makers conference, a two-day feministic event in Rancho Palos Verdes, Jennifer Aniston interviewed activist Gloria Steinem in front of a small crowd that included Sheryl Sandberg, Jane Lynch, Marlo Thomas, and Martha Stewart. During their 20-minute conversation, Aniston told Steinem, "I thank you and honor you for raising women to have a strong voice."

She also commiserated with Steinem over the way women's perceived value is tied to their romantic relationships and progeny. A remarkably successful actress, Aniston has been categorized as a perennial sad sack because of her relationships and childlessness (see: "The Life of the Pity Party"). Aniston says:
Being in the public eye, us women come up against this, that our value and worth is dependent on our marital status and/or if we've procreated.
To which, Steinem laughingly replied:
Well, I guess we're in deep shit!
Aniston agreed. Laughing in the face of the absurd does feel great, doesn't it? Meanwhile, E!, who reported the story, uses this epithet for Aniston: "Justin Theroux's other half." They did not write barren mother of none, though, so I guess that's good.