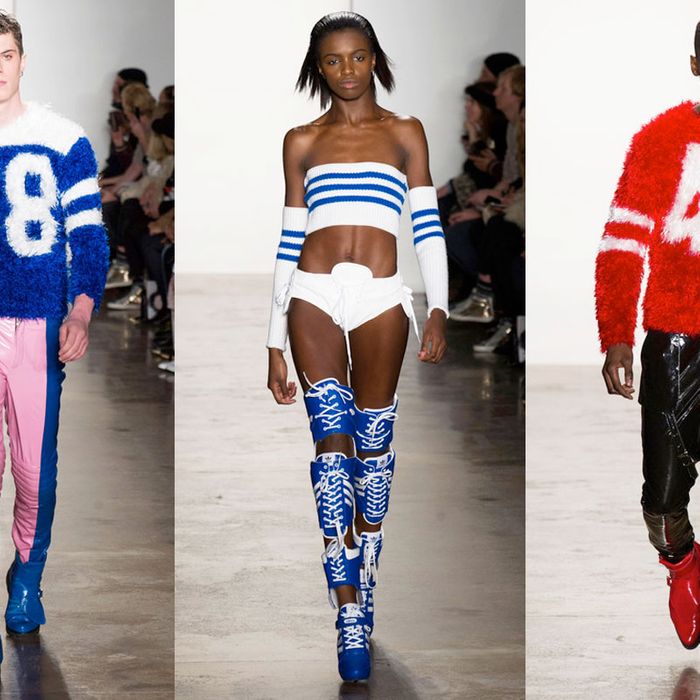 When it comes to huge doses of pure, tawdry joy, the Jeremy Scott runway always delivers. Known for incorporating cartoons, aliens, slime, TV bar codes, and other detritus of Americana, Scott's shows bring a bit of mid-week levity sometimes missing at more uptight presentations. This time, however, with the announcement by University of Missouri defensive lineman Michael Sam that he plans to be the first openly gay football player in the NFL, Scott's collection, which featured campy takes on sports-themed garments, could not have felt more current.
The show began with a series of football-jersey dresses and sweaters rendered in fluffy, Muppet-like fur. Both male and female models walked the runway as a version of Freddie Mercury's stadium classic "We Will Rock You" played, and an entire sports theme emerged. One look featured a cross between arm warmers and opera gloves that resembled cheap three-pack tube socks, another had a jacket that looked like a deflated basketball. A suit printed in giant Band-Aids and a lace-up football-padding bustier made for hilarious but clever garments. Thankfully, these were not looks for the "typical" quarterback and his cheerleader girlfriend.
The irony of using Mercury's song was not lost at Scott's show. In Mercury's lifetime, the notoriously homophobic world of sports co-opted his hit into an adrenaline-pumping pre-game anthem, while willfully ignoring his flagrant homosexuality, until Mercury died of AIDS in 1991. With the Sochi Olympics in full swing and Putin's anti-gay trolling (followed by open acts of rebellion), sexuality in competitive sports has never felt so relevant.
Though it's likely that Scott set out to explore gender roles in sports, he couldn't have predicted that Putin would be openly hateful to gays at the Olympics or that American football would be shaken to its core by one brave young man. But his clothes serve as a good reminder that it doesn't really matter which team you play for; it's having fun while you play the game that matters most. For that reason alone, this season, Jeremy Scott takes home the gold.