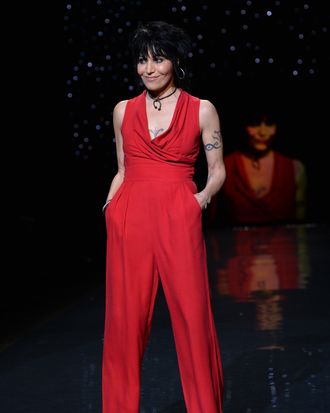 Photo: STAN HONDA/AFP/Getty Images
A list of who's walking in the annual Heart Truth Red Dress runway show sounds like the setup for a corny joke: "NeNe Leakes, Joan Jett, and Lindsey Vonn walk into a bar …"  And being backstage at the show feels like you're on a reality show involving a time machine. Many worlds collide. Ireland Baldwin and Giada de Laurentiis sit next to each other in the hairstylists' chairs. Star Jones greets everyone like they are her subjects. People ask, "Who's that blonde one? They all look the same." Backstage, I encountered the legendary Joan Jett, and couldn't resist asking her what she made of Miley Cyrus.
In her recent W interview, Cyrus said:
I like that I'm associated with sexuality and the kind of punk-rock shit where we just don't care. Like Madonna or Blondie or Joan Jett — Jett's the one that I still get a little shaky around. She did what I did in such a crazier way. I mean, girls then weren't supposed to wear leather pants and, like, fucking rock out. And she did.
And Jett supports Miley just being Miley. "I think she's finding her way and trying to come out of what she started as. And I think it's absolutely valid — you go this way and you go that way and you try to find a center. She's being bold about it, and I admire that sort of bravery," Jett said. "It's tough, especially these days when you've got so much social media and everybody ready to take shots at you. It's even harder to be who you are and stay strong in your beliefs. You know, I admire the fact that she is trudging forward and doing what she feels is right for her."
In terms of personal style, Joan Jett's hasn't wavered much in the last 35 years. For the show she wore a sleeveless red Catherine Malandrino jumpsuit with a plunging neckline that showed off her sternum tattoo to good effect. Before she changed, she was slouching around in tight black jeans and short motorcycle boots. Does she ever want to put on anything pink and frilly?
Jett laughed and said, "No, this is about as close as I get." Guess we'll have to wait and see if Miley is still wearing pasties and sticking her tongue out 35 years from now.