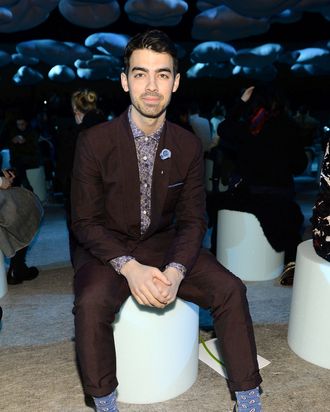 Photo: Dimitrios Kambouris/Getty Images
With Marc Jacobs's meditative show last night, Fashion Week, and my stint covering it, came to a close. In the past few days, I've packed in an electrifying assortment of shows, created a whole new dream-wardrobe filled with crazy hats, met new people, and gathered dozens of potential references for future concerts and music videos. My mind is spinning with fantastic Fashion Week moments and inspirations.
Everybody says that Marc Jacobs is an excellent note to go out on, and this one really was dreamy. It was the only show I have ever been to that I found completely relaxing. The whole show was appealing — there were padded clouds hanging from the ceiling and a soft carpet under our feet. The seats were like marshmallows, and you got one all to yourself. The "music" was Jessica Lange (I'm a big American Horror Story fan) speaking the phrase "happy days are here again …," which gave a slightly creepy undertone but mostly added to the hypnotizing atmosphere. 
I've learned that one of my favorite things to do at these shows is to sit next to editors. They have this signature editor-nod-of-approval they do — they look for a moment, tilt their chin up and down, and then immediately dip back into their notes, either on their phones or just regular old paper. It's very precise. I got a chance to catch up with magazine editor supreme Anna Wintour before the Marc Jacobs show. I talked to her about what it was like writing for the Cut and told her everything I was attending, but when she told me about her schedule my jaw dropped.
I'm thinking now about how I will use all these little lessons I've learned this week. I'm looking forward to trying a few styling ideas out in some concerts. Marc Jacobs's dreamy atmosphere is going to be a serious influence. Also, the Moncler show, which I didn't get to attend, had these fascinating video-game images on screens and a creative musical component. I can't wait to see some of Jeremy Scott's sportswear — like those cool sandal lace-ups — out in the world. Ditto for Public School's fantastic hats.
I'm escaping New York's snowstorm soon! It was a fantastic week, and I'm looking forward to next season. For now, though, I think I will try to enjoy the snow a little bit, relax, and process everything I just saw.