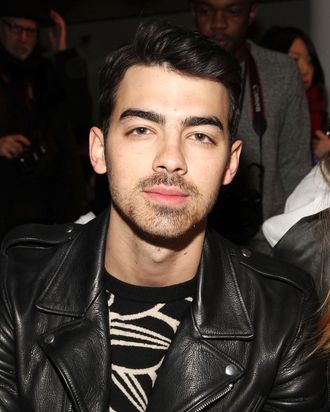 Photo: Mireya Acierto/Getty Images
Fashion Week parties don't feel so different from other parties, except that the crowd looks more carefully dressed and the people-watching is supreme. Even though I've taken so many photographs during the shows, I can't resist some good party snaps with wild-looking characters. At the Details party, I took a great photo with a man in a turban and enormous, bedazzled sunglasses at night in a club …
Thursday night started out a little shaky. Outside of the Todd Snyder after-party, my friend Steven nearly got into a tiff with a bouncer — it was a miscommunication mess with a promoter who had many drinks too many — but by the time we made it to the packed NYNY party, it had already become a funny story. They hosted at Up and Down, which used to be the Darby. It was packed to the gills with people. My friends were D.J.-ing, but rather than dancing, we spent most of the evening wiggling through the crowds.
The first thing I do when I get to a big party is make my way to the bar. A drink can ease some of the intensity of the thumping music and crowds of people. I like something simple, like a vodka soda or a Moscow mule (big fan). I try not to party too much, though it's not a hard-and-fast rule. It's easy to lose track of the night when I'm catching up with old friends.
Friday evening, I went to a place I love called Omar's — it's a private restaurant-lounge near Washington Square Park. Saturday, I went to both the Prabal Gurung and Alexander Wang parties. Prabal just bounced around in a white T-shirt, no entourage. That surprised me. At Alexander Wang's party at the gold-splattered club the Gilded Lily, we ate ice-cream pops under the string-lights chandelier, and I hung out by the D.J. table, where my friend Jesse Marco was D.J.-ing. There wasn't a person in the room who could resist the music. Everybody danced. I'm always amazed that no matter the crowd, everyone has the same taste in music when they go out. The crowd favorites right now seem to be Kendrick Lamar, Jay Z, and early Kanye. For the women in the room: "Drunk in Love" wins by a landslide. I think a D.J. could play "Drunk in Love" on repeat all night and people would keep dancing.
After Wang's party, we made a late-night stop at Artichoke to soak up some of that booze and keep up the energy for fantastic shows on Sunday. It's been a great set these past few days. I was wholly impressed with Todd Snyder; he had some of the most stunning clothes I had seen so far. I loved the leather detail in General Idea's show on Friday — they had me running to take notes and try to imitate that look. I loved rag & bone's embroidered jackets with models' names. They made me want to get some custom made with funny nicknames for friends or my girlfriend. But it was Lacoste that really won me over — I wanted all of that for my wardrobe, particularly their trench coat. Between their stunners and Todd Snyder's badass, hooded version, I'm rapidly becoming a trench enthusiast.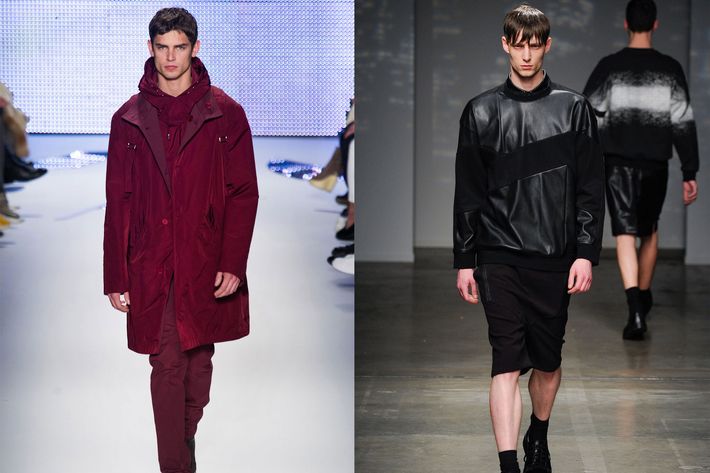 One of the most interesting events I attended this week was the G-Star RAW denim presentation of their RAW for the Ocean collection. They partnered with "Bionic Yarn" (from Pharrell Williams and Tyson Toussant), which is created from plastic recycled from the ocean. Pharrell, G-Star CMO Thecla Schaeffer, and others talked about how the company plans to fight plastic pollution. Afterwards, Schaeffer and I couldn't stop talking about the idea of sustainability in fashion.
I've been feeling inspired and energetic all week — late nights and early mornings can be a fun pace for a little while! I've also started to develop a solid routine to make sure I'm in top shape in the morning: a juice followed by a latte seems to do the trick. I'm a pro at handling vocal cord strain, so the key during weeks like these is not doing the yell-talk thing at loud parties. I might emerge from this week with the most intact voice of anyone here!
This is the second post by the Cut's new contributing correspondent from the front row at Fashion Week.