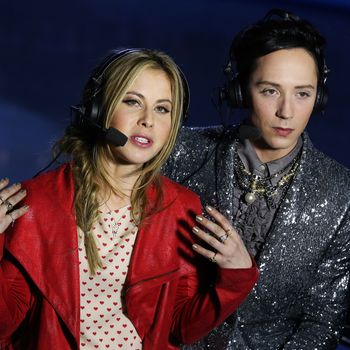 It appears the TV gods have heard our cries. We only have to survive one more week of a cold, bleak, Johnny-and-Tara-less post-Sochi world. The professional shade-throwers have landed an Oscars red-carpet commentary gig for Access Hollywood.
Their stint will kick off with a special "behind-the-scenes" look at their Oscars-outfit shopping excursion (someone needs to wear those Rodarte Star Wars dresses, Tara), which will be, in other words, Christmas morning.
On the big night, March 2, the two will be posted in a tower like the princesses they are, commenting on red-carpet fashions while Billy Bush interviews celebrities. Will Johnny and Tara usurp the red-carpet throne from Ryan Seacrest, Joan Rivers, and Giuliana Rancic? This video offers an answer to that question:
Access Hollywood tells the Los Angeles Times that it hopes to have Team Weirinski (we're still working on a nickname) bring their special magic and coordinating outfits to all the awards shows this year, from the VMAs to the Emmys. Is it too soon to start campaigning for Weir/Lipinski 2016?