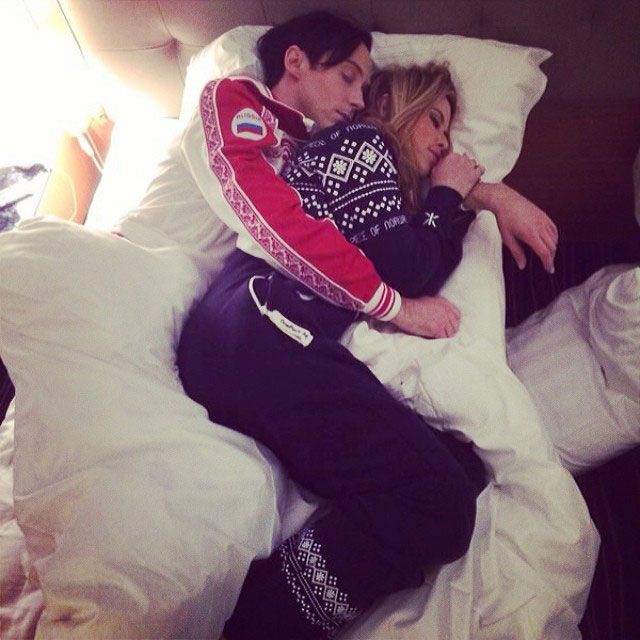 Photo: taraandjohnny/Instagram.com
Last night Adelina Sotnikova of Russia won gold for women's figure skating to much protest. But who even cares, because it's Johnny Weir and Tara Lipinski who deserve all the glory.
Over the course of Sochi, we have been treated to coordinating outfits, in-sync shade-throwing, and excellence in the three F's: Figure Skating (commentary), Friendship, and Fashion. Here is a breakdown of how they won the Olympics:
1. Their fashions: For their Month of Fabulous, Weir and Lipinski had a combined (and most likely pre-coordinated) haul of eight suitcases including: "22 pairs of shoes, 10 pounds of jewelry, 25 blazers, 4 fur coats (all Johnny's), 6 pairs of leather pants, and 9 high-end purses."
Last night Weir and Lipinski wore the triple-lutz, triple-toe-loop equivalent of looks: He wore a vintage Ferré blazer with a huge single gold button, a gold-leaf wreath from Erickson Beamon (a nice nod to the Olympic games), and added golden highlights in his hair. Lipinski matched his Athenian-goddess vibe with a Greek-inspired braid and matching wreath.
2. Their shared figure skating knowledge: They may have been erroneously placed on the second team, but these former skating champs know their stuff. As Weir told the New York Times, they were up until 3 a.m. making Instagram videos and planning outfits — as well as studying skater bios with equal fervor. Their commentary was both smart and informed but also snarky and sparkly, such as when Weir compared the rink to a "mall in Paramus at Christmas time."
3. Their friendship: They have a joint Instagram account, @Taraandjohnny, which captures the pair doing their favorite things: throwing shade, spooning, sharing shoes, and making terribly produced videos. This is love people. This. Is. Love.
Do we really have to wait until the 2018 South Korea games for more Weir and Lipinski? This duo is primed for a Bravo binge-watch reality series and their own line of His and Hers matchables on the HSN.