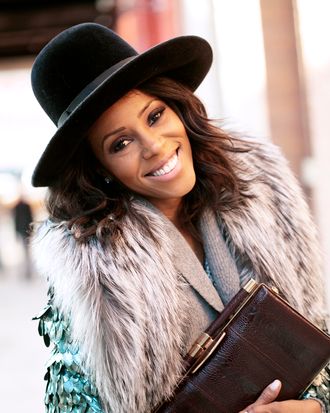 Photo: Bek Andersen/New York Magazine
Throughout Fashion Week, author and celebrity stylist June Ambrose is documenting her daily wardrobe for the Cut. Yesterday, she was all about a colorful antidote to the gray weather, and today she's experimenting with texture (and, of course, hats) to chase away winter blues and seasonal colds. "I love texture," she says. "Today was all about playing with texture, from the beautiful alligator clutch to the palettes on the sequined jacket, and the fur and the metallic."

Here is her day two look:
Coat: Marc Jacobs.
Skirt and Blouse: Also Marc Jacobs. "I wanted to capture a Mod schoolgirl look with the pencil skirt and cardigan. But I wanted it to be a little bit glam, with a nod to the roaring twenties glitz.  That's where the cape came in."
Sweater: Barneys.
Wrist Flair: David Yurman; Enamel Big H, Hermès; Diamond Bangle, Jacob the Jeweler. "The spiked bracelet and this one with the round penis-looking finishes is vitafede." "The Rolex is a gift from my better half."
Bag: Tyler Alexander.
Shoes: Azzedine Alaïa.
Hat: Custom-Made From the Chapeau Chateau. "I wanted a Crown Heights hat, so I had it custom built. I was feeling like Flatbush. This weather has been horrible. It's really windy, so you will see me with a lid every day. As soon as I take my hat off, I'll get a head cold. Plus, it's kind of my trademark. I love punctuation. I have maybe 30 hats."