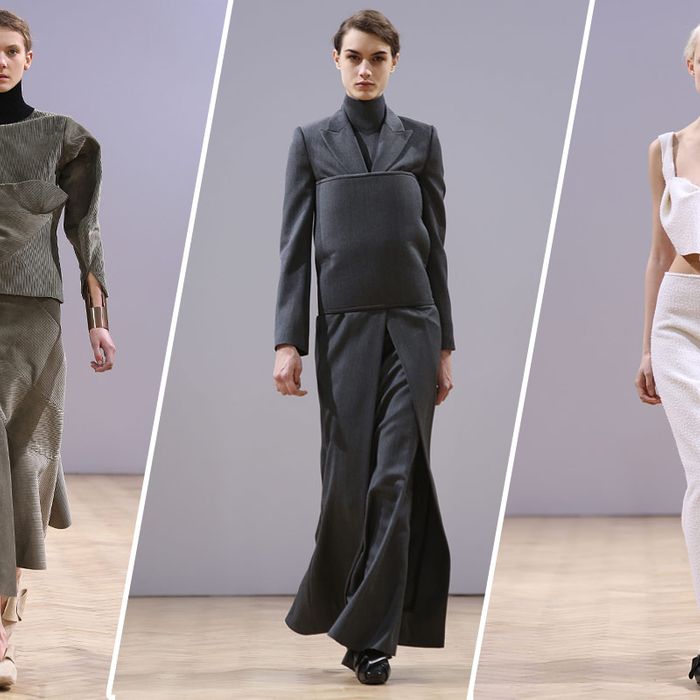 Photo: Tim P. Whitby/Getty Images
LONDON – Seating at the J.W. Anderson show today hinted of a collection about texture: Benches came stuffed with exposed insulation, which suggested that the designer would again explore the depths of materials.
For his spring outing, Anderson draped, pleated, and gathered his way through gossamer and linens, exposing slices of skin. This season marks his first women's runway show since being named creative director of Loewe (and with a majority stake in his own company picked up by LVMH). The fabrics were more dense than usual (thick corduroys, nubby wools, ribbed knits, and draped shearling) and the shapes more controlled. Adding to the drama was an edited palette of cream, hunter green, gray, and cobalt. The body was more covered, ankle-grazing apron skirts were the silhouette of choice, and funnel-like turtlenecks swaddled the upper body.
The opening looks were voluminous, featuring turtlenecks with built-in corduroy corsetry. A gray blazer (worn with an ankle-length skirt) was wrapped with a tubular piece of the same fabric. The effect was primitive or monastic in its simplicity yet futuristic in manipulation; you could almost imagine these as the uniforms of the past as well as for generations ahead.
Anderson showed patent-leather platforms at his men's fall collection last month, but this time pulled a 180 for the ladies. Models wore leather flats, their feet swathed in so much material that it resulted in a shapeless, androgynous effect.
Certainly there were standout looks with more commercial appeal: Color-blocked turtlenecks, some with spliced serial at the neck, will surely be popular with Anderson's growing knitwear fanbase. After a beautiful cream skirt came paired with a twisted, artfully draped cropped top — a look that exposed the most skin of any in the show — one editor jokingly asked if she could wear it to her wedding. With flats, of course.