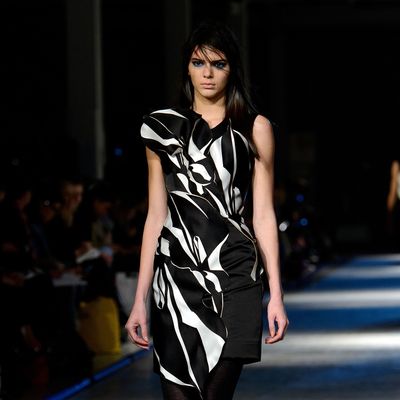 Photo: Ben A. Pruchnie/Getty Images
Kendall Jenner is having a big week. Last Thursday, she walked in the Marc Jacobs show; yesterday, she sat next to Anna Wintour at the Topshop show; and now she's on the runway at Giles, her first show of the London Fashion Week calendar.
Let's examine: Jenner's hair is now flat and un-blown-out (already a departure from the family look), and she wears bright0blue eyeliner. In an interview with Grazia before the show, Jenner graciously pinned her newfound success on LOVE's Katie Grand, Marc stylist and general fashion fairy godmother. She said that those tricky agents of hers tried to punk her about landing the Marc show:
When I found out, I was at my model agency so my agents were trying to play a trick on me and pretend that it wasn't happening. Then they told me and made such a big deal out of it so we were celebrating for at least five minutes. It was amazing.
She says she'll "hopefully" walk in shows in Milan and Paris — and shares what she and Anna Wintour had to talk about in the front row: a good old-fashioned travel horror story. They were both on the same plane to London, which was diverted to Newcastle. So — phew — super-safe small-talk subject.