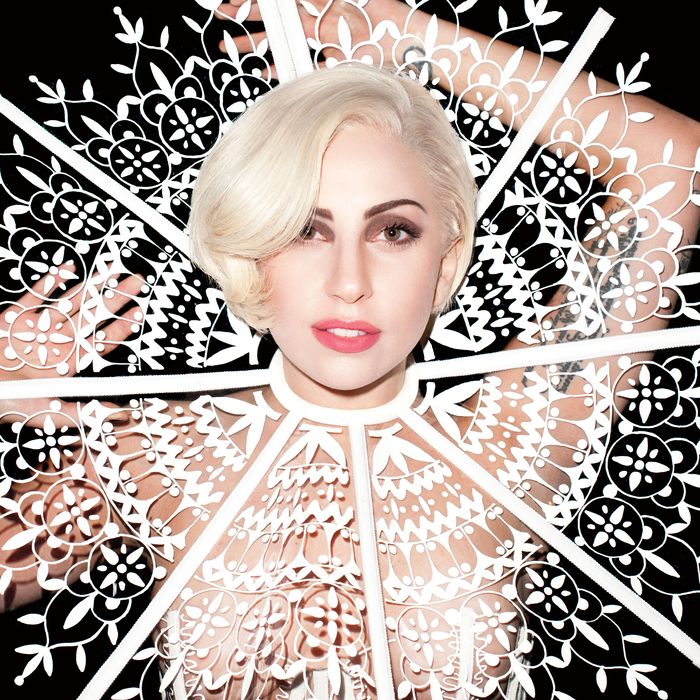 Photo: Terry Richardson for Harper's BAZAAR.
Lady Gaga is on the cover of  the March issue of Harper's Bazaar looking truly beautiful while wearing a breast-baring corset with a coordinating neck doily, as only Lady Gaga can.
In the interview, Gaga reveals that she would like to grow up to be Oprah, Melinda Gates, or a unicorn; meanwhile, she kind of sounds like she leads the life of a wistful, aging starlet from the 1940s.  She describes the New York apartment where she temporarily hangs her many unusual hats as a "tiny jewel box" with furnishings inspired by Valley of the Dolls, Liberace, and a Barbie Dream House: "rose-gold mirrors, an oversized pink couch, an expensive vase, a white Marilyn piano, and a boudoir."

While her entire wardrobe is already archived in Hollywood, she appears to treat her apartment as a literal jewel box. It's there she stashes the " three most expensive items she's ever purchased," which are a "sable, a strand of diamonds, and [her] Mikimoto pearls." (Joan Crawford, is that you?) I picture it as some sort of altar to her the early days of her fame, when she'd wear her best sable to sing jazz standards in a smoky cabaret before a gentleman caller would treat her to an egg cream and, perhaps, a night of romance.