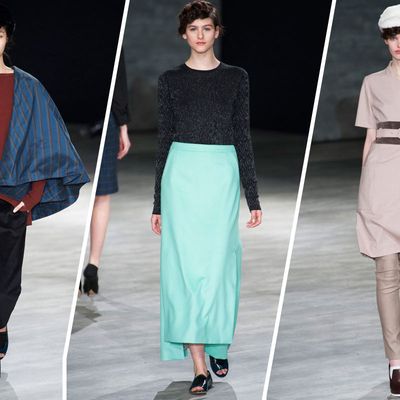 Photo: Andrea Adriani/Imaxtree
If one measure of a successful presentation is its ability to spark debate, then the Creatures of the Wind show on Thursday afternoon was a master stroke. Designers Shane Gabier and Christopher Peters debuted their fall 2014 collection at Lincoln Center in the newly configured Pavilion, which has (sort of) the feeling of an industrial loft. The collection was a collision of prints and textures, audacious colors and desultory hues, elegant shapes and awkward silhouettes.
It was, as always, a paean to the eccentric who lives within us all — that person who longs to walk the streets in longjohns, a fur coat, a feather boa, and a tiara perched atop a bedhead and dare anyone to stare while reveling in every double-take. But about two thirds of the way into the Creatures of the Wind presentation, a model appeared wearing an ankle-length skirt in one of the most unattractive shades of mint green to ever spring from the color wheel. It was institutional in its pallid lack of depth, so sad in its woozy torpor. But the designers had paired it with a long-sleeved, sparkling black top that was quite glamorous and sassy. The designers had purposefully introduced a bracing shot of ugly into what could have been a moment of retro magic.
The collection had a lot of those speed bumps, when a jarring print was paired with a pleasantly understated one. Or a dowdy skirt met a sexy open-backed tank. So what to make of these aesthetic juxtapositions — which skewed a little more aggressively wretched than sweetly offbeat?
A long time ago, the fashion industry decided that the modern version of beauty was something that was just a little imperfect, a tad quirky. Things that were too slick were simply not particularly interesting.  That way of thinking was fundamental to the notion that some of the most exquisite clothes are those that bear the evidence of the human touch: tiny — but slightly uneven — hand stitches, the vagaries of hand-dyed fabrics, the irregularity of hand-crafted prints.
But this season, Creatures of the Wind was a reminder that fashion has become even more antagonistic towards traditional beauty. The fashion industry will often go out of its way to disrespect beauty, to treat it poorly, to beat it up a little. There was no reason to pair that mint green skirt with a perfectly lovely top, other than to take it down a peg. That sensibility is not limited to the runway. Instead of displaying high-priced designer goods in spare, art gallery environments, retailers such as Humberto Leon and Carol Lim of Opening Ceremony treat these precious wares like vintage store, barrel bargains. Other independent retailers have studiously avoided treating frocks that come with four-figure price tags as anything special, instead cramming them so tightly onto store racks that pulling them out requires elbow grease and a crowbar.
Fashion should never be treated as overly precious. There's nothing more pointless than clothes deemed too fragile for the stresses of daily life. And rare is the garment worth mounting on a pedestal and putting under a spotlight. But fashion should refrain from swinging too far in the other direction. A pretty dress really doesn't deserve a beatdown.