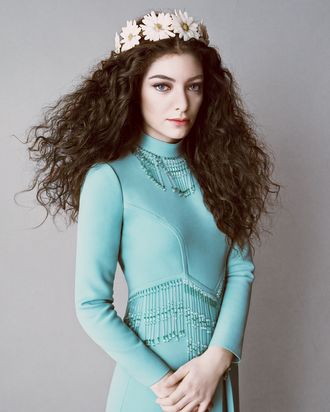 Photo: Mario Testino/Vogue
For the Grammys this year, Lorde referenced medevial bear-hunters and zombies for her red-carpet look. So when Vogue asked the singer about her fashion influences for the March issue, we were sort of hoping she'd say something like, "Oh, I'm really channeling Hannibal Lecter this spring." But even the most noncomformist singer knows to come prepared with some acceptable-sounding fashion inspirations when she's in the second-biggest fashion issue of the year.  Zombies and bear-hunters — unless they recently inspired Chanel — probably won't fly.
In the interview, the stunning Lorde listed Comme des Garçons, Miu Miu, Moschino, and Simone Rocha as her favorite designers — the perfect list for the teenage "eccentric" with a larger-than-average clothing allowance. Of her personal style, she says, "[the] kind of clothes that I've found I like to wear over the past year and six months have all been things that make me feel powerful and strong … I wear a lot of pants. I wear a lot of long, structured dresses."  

And as for her sartorial influences, she listed the Vogue-appropriate Grace Jones and David Bowie, people "who have such a sense of themselves." Which 100 percent make sense for her, the most preternaturally mature and self-possessed teenager on the planet. When I was 17, my style icon was the 19-year-old cashier at Hot Topic, which, I guess, is not actually so far off from what Lorde intends to channel.