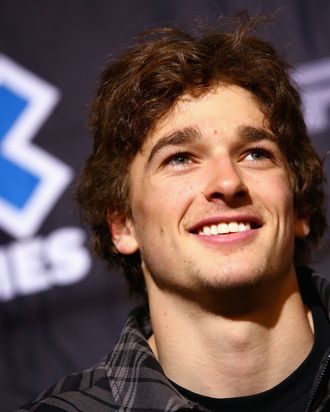 Photo: Doug Pensinger/Getty Images
Valentine's Day may be over, but 19-year-old Olympic slopestyle bronze medalist Nick Goepper is still angling to capture America's heart through his "creative" side. During a strategically timed Today show appearance on Friday, Goepper — who claims to have taught himself to ski in his Indiana backyard using an ingeniously crafted ramp made of Astroturf and PVC piping sprayed with water and dish soap — announced that he is single and looking for a V-Day rain check. Later that day, the resourceful teenager announced on Twitter that, after the Olympics are over, he will pick one female fan to go on a "dream date":
Interested parties are invited to submit tweets, Instagrams, or Facebook posts for Nick's consideration, using the hashtag #iwanttodatenick. "This is kind of like a tryout," the Olympian explained earnestly in an Us Weekly exclusive. "They post something creative and something to catch my attention." The winner will be flown out to Goepper's to-be-determined training location and, Goepper says, can expect to be surprised. "Dinner and maybe a sleigh ride … we'll see," he elaborated. So far, the competition looks pretty steep.