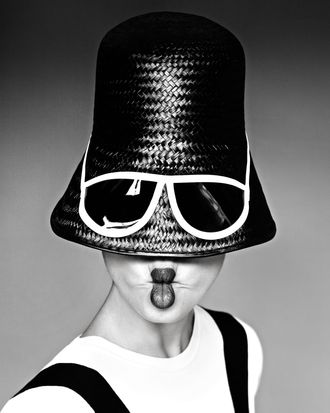 Photo: Ruven Afanador/New York Magazine
To understand what the Man Repeller is about, all you really need to do is get hold of the home video of Leandra Medine playing with her brother at an Upper East Side gym. Their mother is holding the camera. Leandra is wearing, as protection against lice, a shower cap. She is 8 years old, and she says, for posterity, "This is my outfit. Do you like it? If anyone doesn't … I don't give a shit!"
Seventeen years later, Medine spends all day telling other women not to give a shit what anyone thinks about their outfits. At ManRepeller.com, which she started as a blog when she was at the New School, she dispenses daily fashion wisdom along the lines of "Making the Case for Big Pants (I Know, That Sounds Ridiculous, But That's Because It Is)" and "Things I'm Still Not Over: Winter White (Especially When Paired With Black Boots)." The posts, often accompanied by photos of Medine modeling the looks, all share the Man Repeller attitude: that women should dress not for men, nor even for other women, but for themselves.
In wardrobe terms, man-repelling can mean embracing such less obviously alluring articles as turbans, overalls, and drop-crotch harem pants. Icons of man repulsion include Diane Keaton, Chloë Sevigny, and Fran Lebowitz — women who've achieved a certain high style without embracing form-fitting ("bodycon," in the language of Man Repeller), girlie-girl looks. Ultimately, though, man-repelling is more than clothes-deep; it's being yourself and letting your feminist flag fly. "I feel very much like the Man Repeller ethos isn't about fashion," Medine says. "It's much more about a woman feeling comfortable in her own skin, and we're using fashion as the vehicle to discuss this sense of self-confidence."
Medine grew up in an Orthodox Jewish household and wore a drab school uniform for much of her childhood. She's 25, married, and talks about fashion in ways that would get most fashion editors' lace Dior knickers in a twist (imagine Anna Wintour referring to an Étoile Isabel Marant romper's "diarrhea ass" — as a compliment). But despite all this, she has developed an in-on-the-joke voice that feels built for this ­particular fashion moment — tuned to the frequencies of Twitter, affectionately incorporating the industry's unspoken awareness of its own ridiculousness — such that Medine's way of talking about fashion has become the way a lot of very fashionable people now talk about fashion. Her catchphrases start trends, like arm party, for a forearm stacked with bracelets, which Lucky magazine said sparked a "craze"; or birth-control glasses, a term for unsexy eyewear Medine picked up that has become fashion shorthand. "She created a verb," says her friend Claire Distenfeld, owner of the Upper East Side boutique Fivestory. "Man-repelling is in the colloquial dictionary of the fashion world. It has surpassed her."
Armed with a catchy name and a freshly articulated sensibility, plus Medine's helpful network of friends (one is an editor at Women's Wear Daily), Man Repeller quickly became among the most visited independent fashion websites. "It's been crazy seeing how far she's grown in, what, four years?" says Laura Brown, the executive editor of Harper's Bazaar, who has assigned Medine articles. "I saw her at Fashion Week, and she was being driven around in a Man Repeller–branded car. She has a very young, shoppy, retail-savvy, smart following. There's a reason someone put her in a car with her name on it." The site sells display ads and "integrated editorial spots," which are articles typically generated by Medine, pitched to brands she likes, and labeled as a collaboration. Recently, for instance, there was a post, sponsored by vbeauté, arguing that it's never too early to start wearing lip gloss (and also confessing that Medine is tired of her Instagram commenters saying she looks like a meth addict). She now has a full-time employee dedicated to "digital partnerships."
In September, Medine's book, Man Repeller ("Seeking Love. Finding Overalls"), was published by Grand Central, and she moved into office space in Noho with two new employees. In November, her site hit a ­record 1.5 million unique visitors. In December, she shot a nine-episode mini-series for Style.com, and last month J.Crew photographed her in a pair of its jeans. Designer labels including Gryphon, ­Dannijo, and Superga have collaborated with her on, respectively, a leather-sleeved gold-leaf ­camouflage coat, eyeball-themed jewelry, and velvet-and-tweed sneakers.
And it's not just more established brands that benefit from Medine's influence. "I think she's helping to launch people now," says Brown. "She's getting eyeballs on designers who are just starting out." ("You can't even measure the effect of it," says Medine's friend Rosie Assoulin, a young designer Man Repeller has championed. "That intimate connection she has with readers she's extending to our brand.")
When I accompanied Medine in January to Stella McCartney's pre-fall presentation, in an Upper East Side mansionette crawling with famous people (Jerry Seinfeld, Patti Smith, Alec Baldwin), she wore jeans, a sweater, white boots, and a toy-size, baby-blue Maison Michel hat. She glided through the crowded rooms, looking as at ease as someone two decades older while she said her hellos and chatted with friends. At one point, she stopped to pose for a middle-aged woman she'd never met who said she was a fan and wanted to take a picture of her.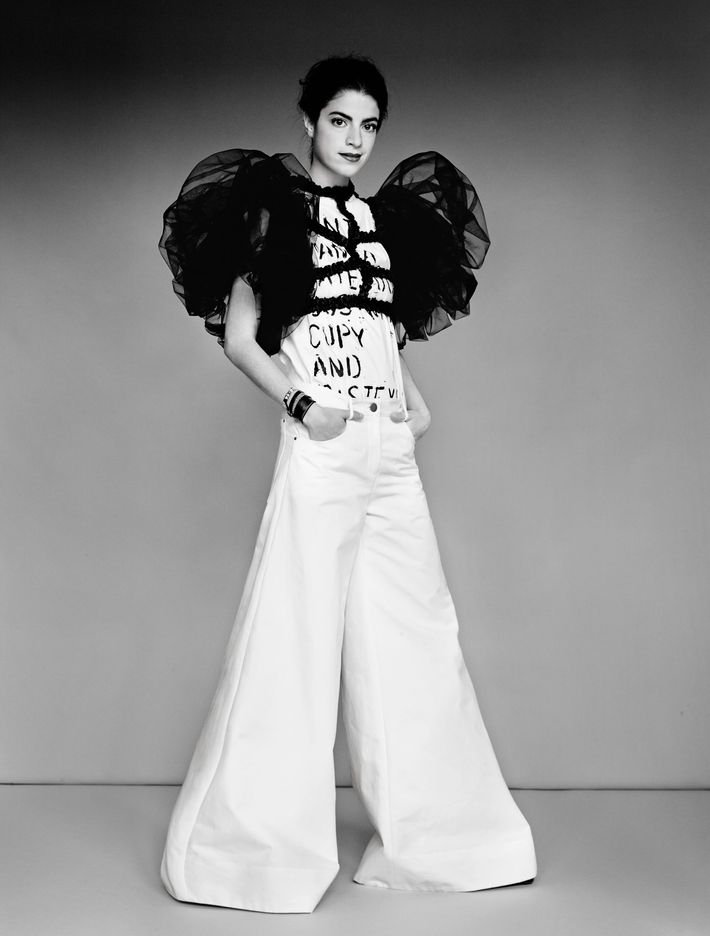 On a recent morning that Man Repeller might label "coo-oooll-dddd," Medine is in her small one-room office, nine floors above lower Broadway, working on a post about "the three different kinds of girls you might meet on Saturday night in New York City's winter." There are the Hypochondriacs, fully bundled-up "in all the right ways"; the Human Icy Hots (fashion-enslaved women who never let comfort get in the way of style); and the sensibly balanced Semi-Repellers. Medine pegs herself as the last of the three, not that she hasn't had lapses. "I wore pumps last night," she says. "It was terrible."
Medine is sitting around a pair of large white lacquered desks with Team Man Repeller: Amelia Diamond, a fellow writer (and former employee at New York), and Charlotte Fassler, who does illustrations and photo-editing. "I think we've all been guilty of being the former," says Diamond.
"I used to think a blazer was a winter coat when I got here," says Fassler, late of Los Angeles by way of Barnard.
Medine's personal style was variously characterized to me by fashion people as "wonk chic," "eccentric glamour," and "a boyish feminism" that has become more polished in the last few years. "She'll have a pale-pink Givenchy jacket on," Brown says. Medine's not unseasonable semi-repeller outfit today combines a knit sweater from American Apparel, a secretary skirt from Zara, black tights, Isabel Marant boots, and an Isabel Marant neckerchief. The fringe on her boots? "I would call them an homage to the Old West." The neckerchief? "It's also an homage to the Old West. I think I was really affected by the Chanel pre-fall show." (A week earlier, she'd gone to Dallas for Karl Lagerfeld's annual Métiers d'Art event.)
Today, while Medine is composing her taxonomy of repellers, Diamond is at work on a "history of the sequin," the latest in a Man Repeller series inspired by Comedy Central's Drunk History. "Ours are not factual at all," Medine says. "The first one was called the 'Genesis of Ruffles,' and it was about this woman in medieval times getting hold of a mirror and saying: 'I have a brilliant idea. Why don't I put this labial foldage on cotton and wear it around my neck.' And then men caught on. So the punch line was: And here these men thought women couldn't vote, when they were wearing her vagina around their necks." The vagina, by the way, is a Man Repeller totem, and not in a Georgia O'Keeffe way. (Man Repeller, page 81: "I was wearing supremely high waist denim shorts that gave me the most offensive FUPA. The crotch seams dug so deeply into the lips of my vagina that to this day I can still see the considerable dents they left.")
The backdrop to all this, and the chief reason Man Repeller has won such an enthusiastic following, is the humor desert that is much of the fashion world, the same malnourished, industrywide piety that made The Devil Wears Prada and Zoolander mistakable for documentaries. The luxury-business stakes are partly to blame; when you're selling a handbag for $1,500, it can be risky to inject laughs into your marketing. But it's also the case that most writing about fashion is … simple. "I think she's capable of writing a complex sentence, which is not that common today," says Glenn O'Brien, the journalist/man-of-style who calls Medine "the fashion Sarah Silverman." Barneys' Simon Doonan, another successful integrator of wit and garments, recalls his first response to Man Repeller: "There was some intelligent recognition of the fact that high fashion is not sexy. Often to be highly fashionable you sacrifice your screwability. There's a big difference between Tilda Swinton and Pam Anderson. I thought, She's a smart girl for figuring that out and making it funny."
Most of the time, the only overlap of comedy and shmatte occurs in outsiders' mockery, which gives Medine an opening. "Fashion needs humorists who are also insiders," says Doonan. "Fashion isn't theoretical for her. She indulges, she buys, she shops. It's not like she wears a black turtleneck and hectors the rest of us about fashion."
"At the end of the day," Diamond says, "we love fashion; we love the things we poke fun of. If someone else were to do it—"
"Don't you be talking shit about my people," Medine says, finishing Diamond's point. "Back off my shoes."
When Medine does tweak fashion affectations, she gets away with it by implicating herself. "During Fashion Week, we do this thing where one of us will say something and then say, 'Sorry for that sentence.' Sort of like the equivalent of putting money in the douchebag jar. 'God, I think I have to miss Band of Outsiders, 'cause I'm going to go horseback riding.' Or: 'I'm so hungry I'm going to eat my own face off.' It's so easy to fall into that discourse, especially during Fashion Week. 'I haven't seen you in forever.' "
In December, Medine took part in a fashion-industry Secret Santa organized by the Cut and found herself assigned to Doonan. She gave him a copy of his own book The Asylum: A Collage of Couture Reminiscences … and Hysteria. "My point was, I wanted my book that I purchased for him to be the one that propelled him to New York Times best-selling success. He opened it and was like, 'Oh.' " Doonan's initial befuddlement gave way to bemused appreciation. "It had that signature Man Repeller perversity," he says. "She reminds me of all my old girlfriends in England."
Leaving aside the eighth-year pronouncement regarding her indifference to others' sartorial opinions, it would have been hard to foresee Medine's modish future based on the black and gray maxi-skirts she was required to wear through her high-school years at the Ramaz School, a yeshiva on East 78th Street. It was really only once she went to the New School, where she interned at Valentino and spent a year browsing the boutiques in Paris, that her fashion mania was awakened. You can see the embryonic Man Repeller taking form in her blog from that time, Boogers + Bagels, with its liberal use of the term man-repelling, its slangy language ("this amazeballs Vena Cava safety pin blouse"), and its youthful, bloggy self-disclosure (after bandaging her injured toe, she dubbed it "Toesama Binladen, clad in his turban").
Medine has hardly abandoned her roots; every Friday she attends a family Shabbat dinner on the Upper East Side, and she regularly skips Fashion Week events because of Yom Kippur and Rosh Hashanah. But Distenfeld, who was a few years ahead of Medine at Ramaz, suggests that the suppression of fashion at school might have propelled both her and Medine's careers. "After that long," she says, "the second you get out, you kind of bud into your own. You're very self-aware: Wow, you're free."
Distenfeld, Assoulin, and Medine have all grown up together. Assoulin, four years older than Medine, was so taken by her amusing Facebook posts that she asked her to lunch while Medine was still in high school. Distenfeld, too, responded to Boogers + Bagels' voice and asked Medine to come work with her, which Medine initially agreed to do before deciding to ramp up Man Repeller. You get the sense, talking to these women, that if Nora Ephron and Joan Didion were in their twenties now, they'd all be hanging out together — or rather, if Medine and her friends could conjure up any fantasy New York, that would be the one. "Her blog is not a fashion blog," Distenfeld insists. "It's a really contemporary feminist manifesto of what women should think of themselves and should think of other women." Man Repeller is less political than Jezebel and less earnest than Tavi Gevinson's Style Rookie, but it routinely weighs in on the same issues they would do. "Anyone can get really heavy and Susan Sontag–y with feminist stuff," says Distenfeld. "But she gets her point across in such a witty, comforting way."
There have been growing pains. When Medine got married in 2012, to money manager Abie Cohen, she went through a minor identity crisis, briefly fearing that it would seem hypocritical for the Man Repeller herself to do something so unfeminist as heading to the altar at the age of 23, and the Internet wouldn't be the Internet if there hadn't been a few snipy comments about it. But Medine got over it pretty easily. "Her core readers weren't tuning in to learn to repel men," Assoulin says.
As the site has grown, it, too, has had to navigate similar intersections, as when, in October, Man Repeller posted a video of a young girl tap dancer flailing her arms and going rogue at a recital. "We thought it was so funny," Medine says. "We were like, this is the next generation of Man Repeller." The video went viral, and gave the site its best month ever. "But some of the comments were like, Really? Is this what Man Repeller now is?" The further Man Repeller moves away from talking just about fashion, the more it risks alienating its core audience.
But Medine is already envisioning the next iteration of her site, and it's going to be huge. "I made a decision a year ago that I want Man Repeller to be bigger than me. Susie Bubble" — the founder of Style Bubble — "says her site can never be bigger than her. But I want Man Repeller to be this very well-edited, curated place, stamped with the approval of the founder of the site. I don't want it to be about me for much longer."
This is less a statement of humility than commercial shrewdness, the recognition that it's a lot easier to scale a brand than a personality. The night before, she had seen The Wolf of Wall Street. "I can't believe he's being glorified for such fraudulent activity," she says. "But the movie was terrific. I felt the same way after I saw The Social Network. Like, I can do this, I'm gonna do this, I want to become a media giant."           
Photos by Ruven Afanador. Styling by Rebecca Ramsey; Hair by Danielle Priano using René Furterer; Makeup by Genevieve for Lancome. First photo: Hat from New York Vintage; vintage Comme des Garçons shirt. Second photo: Comme des Garçons bodice from New York Vintage; Tee by Être Cécile; Pants by Rosie Assoulin.
*This article originally appeared in the February 17, 2014 issue of New York Magazine.