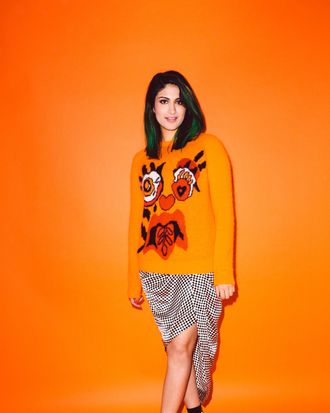 After two years years as a corporate lawyer, Preetma Singh — who had long balanced dueling passions for clothes and policy — decided to give the fashion industry a try. She started the Working Girl, Esq. in 2010, a personal style blog that documented what it was like wearing Balenciaga to a buttoned-up office.
In a couple of years, Singh went from an intern at Refinery29 to assisting in the market department at Vogue, to working at Joanna Coles's Marie Claire. She then moved to WSJ., where she's currently the market editor on editor-in-chief Kristina O'Neill's small and tightly knit team. Off the clock, she plays the drums in a band called Vomitface. Along the way, she has become a bit of a street-style star as well, known most for her creative sense of style and signature green hair. The Cut talked to Singh about her unusual path to fashion, the importance of authenticity in getting dressed — and how she sometimes resists the urge to shout: "I went to law school!"
Lawyer to fashion editor is a big leap. When did you start thinking that it might be a good idea?
I ended up in New York after law school, and I had a job that paid actual money, so I thought, "This is great! I can go shopping and buy the designers that I always loved. I don't have to save ten paychecks to buy a shirt!" My personal interest grew, and I was able to, you know, indulge in it a bit more. I had originally wanted to go into politics, but it wasn't really an option anymore, and I was just so unhappy in my job. So I started thinking, "What else do I like doing? What has been a constant? What gets me excited?" I've always loved fashion, and people seemed to like my style.
And that's when you started the Working Girl, Esq.?
Yeah. I was a little hesitant because I still think [personal style-blogging] is a strange phenomenon. I'm guarded to an extent. I try to be open and friendly enough, but I think when it comes down to it, it's kind of funny to take a picture of your self and post it on the internet for everyone to see. I used it as an exercise to figure out: Do I really like fashion? I pushed the boundaries in my law firm because I could buy all these great things, and I wanted to wear this weird Balenciaga runway skirt to work. The focus was being fashionable and still being work-appropriate.
How did that evolve into you leaving the firm?
I realized that I really enjoyed thinking about fashion and writing about fashion. I got to the point where I saved enough money and paid off enough loans that maybe making the transition to fashion was possible. I gave myself a year. Around that time I met Christene Barberich, the editor in chief of Refinery29, randomly at an event. She kind of liked what I was wearing, we starting talking, and I mentioned that I was thinking about getting into fashion but that I didn't know anybody. She said that if I wanted an internship all I had to do was call her. So I left my job and started interning at Refinery and a trend-forecasting firm, Stylesight. I did that for three or four months and just looked at any fashion job I could, talked to everybody I could — whether they wanted to talk to me or not. A friend-of-a-friend-of-a friend told me Vogue was looking for a fashion assistant, and I figured there was no way. But I sent in my résumé. and I got call from HR the next week. I started a week later, and that cemented the direction I was going in. You don't really say no to Vogue.
And you can also probably go anywhere from Vogue?
Yeah, that's what I figured. It was a sacrifice, obviously. I blew through all my savings.
So you went from a point where you were pretty established in your career to starting at the bottom again. How did you prepare for that mentally?
It was hard, but you have to be humble. You have to put in your time and show people you're really dedicated — and that was a big hurdle.
Did you work in the closet at Vogue?
No, I assisted Jessica Sailer, the market editor. She had a very far-reaching market, so I learned a lot very quickly. She was responsible for contemporary designers, but also sweaters, glasses, leather, fur … everything. So you had to know every part of the market and know it well. It's just a very well-run place, so the transition was easier than I thought because in some ways it's structured very much like a law firm. I think it was also easier being a little older and starting at Vogue because I was sure of myself.
It's about confidence.
Exactly. And not doubting yourself. Of course, sometimes I wanted to be like, "I went to law school!" But you know, you suck it up. It's like any job. I was at Vogue for a year and then I went to Marie Claire. I had done a freelance project with Nina Sterghiou, and they were looking for an associate, so they reached out. I thought it was a good opportunity. Since I'm a little older, I was trying to get on a more expedited path. I didn't want to be 40 and still an assistant. I also really loved Joanna Coles, who was editor in chief at the time. She was very much about the working woman, so I thought it was a good fit with my background. I was there for about seven months, but she left during that time, so there was a lot of upheaval. And then this opportunity at WSJ. came up out of the blue, and I thought it was an even better fit. It's more of a lifestyle magazine, and it has such an intelligent perspective. I've learned to grab opportunity wherever I see it.
What's your day-to-day like?
It's a very small team, so there's a market director — me — and then we have two assistants in the fashion department. We don't strictly divide markets, so I'm basically doing market work for all markets. The bulk of my day is appointments — going to showrooms and seeing all of the collections. I'm personally responsible for creating a trend board every season, and it's also about collaborating with stylists and getting everything they need for shoots.
You see so much — what's happening right now in fashion that's really exciting? What are you hoping for?
I hope that there's more experimentation in the future. I think that we're at a very commercial, safe point. You can find really great pieces, but are there a lot of new ideas? I don't think there are any big revolutions happening right now. But it's also kind of nice in a way. When there aren't these big trends and ideas, fashion becomes more personal. But again, with street style, it's a very complicated relationship. It's a little forced, a bit too considered, and that I don't love as much. You know, I go to shows and get photographed, and I have to think about what I'm wearing. I have to ask myself: "Do I just like this, or am I wearing it because I know someone is going to take a picture of it?" I guess what I'm really looking for is more authenticity, whether in couture or street style.
For all the fashion-loving lawyers out there who are going to read this piece, what advice do you have?
I always feel like I'm maybe cheating people when I give them advice, but I say that there is no set path. My path doesn't necessarily make sense. It's a lot of just believing in yourself without being arrogant. Persistent without being annoying. And luck … so much luck. If you've been trying for a while, maybe it's not meant to be, but should you not try? I don't think so.
Photographer: Eric T. White. Make up and Hair by Tiffany Saxby using Cle de Peau and Davines. Manicure by Casandra Lamar using Revlon at Factory Downtown.