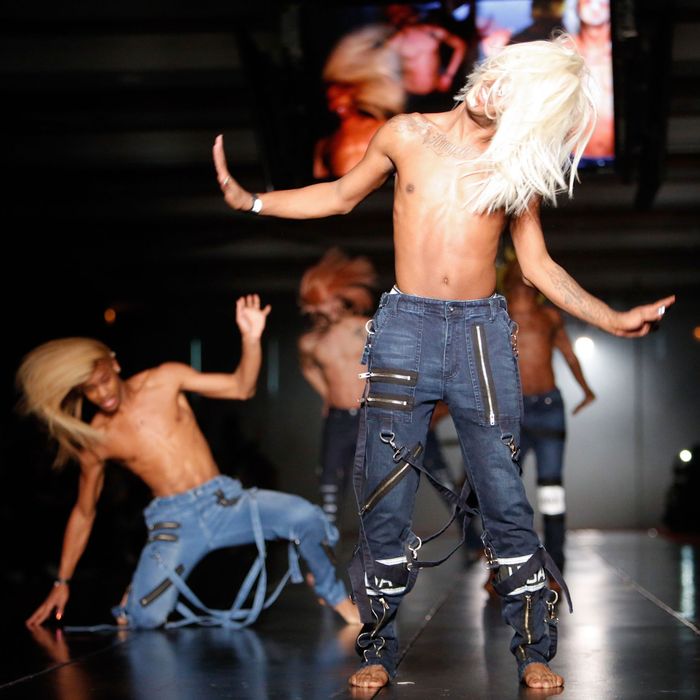 The marathon Hood By Air show — by far the wildest collection we've seen all week — ended with a raucous performance by a shirtless team of voguers. They came out barefoot, wearing long blond wigs and jeans, and freaked for several minutes to wild applause. Turns out they're an "underground vogue team" who met designer Shayne Oliver through their cozy vogueing community, of which he is also a part. According to one of the performers, Dashaun Wesley, the performers were all part of different vogue teams — and usually compete against each other — but unified today to take part in the show. The Cut caught up with a few of the performers backstage.
Desi Alston: I've been involved since I was 16. I met a couple of friends in high school and they took me to the West Village. At first, I was like, That's a little creepy and weird. But after watching it for a while, I started getting attracted to it. And after I learned it, I joined the ballroom scene and walked balls. My friend DeShawn asked me to help him today. He messaged me on Facebook. I love vogueing, and for Fashion Week, it's a great opportunity.
Why do you think vogueing is a part of the runway show today? Um, well, I have a great personality. I love to vogue. He [Shayne] just wants people that bring a positive energy and make the event bigger than it already is.
How does vogueing contribute to the collection? Well, we are basically walking in his clothes. Advertising it. You see everything through our movements. You'll be able to see the clothes.
Is hair normally a part of vogueing? It is. Depending on the person. Some people like to vogue with hair all the time. Others don't. Some people like to do it because it makes them feel more feminine and it brings out their inner girl. And it's fun. I like to vogue with hair and I'm a man.
What do you think of the whole look? With the gold nails, hair, and makeup? I love it. It's fabulous. Absolutely fabulous.
Tayson Gant: Vogueing is an art form. A very different art form. It's very free and loose. You can do a whole lot of things outside of the five elements, which everyone is familiar with.
What do you think of the whole look? The hair? I love the hair. Very, very, Lil' Kim.
And the gold-tipped nails? Lil' Kim as well.