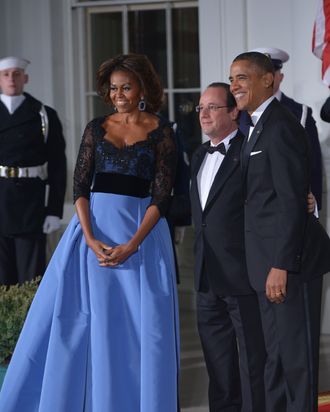 Photo: Pete Marovich/Bloomberg via Getty Images
Tonight, the Obamas welcomed various celebrities and foreigners to the White House for a French-themed state dinner — an event that, among other things, marked the date by which French President François Hollande promised to clear up his "complicated" relationship status. And he appeared to have kept his promise: After his very public breakup with Valérie Trierweiler, Hollande attended the dinner stag, meaning that, among other things (like anxiety over who should sit next to President Obama in the French First Lady's absence), there was even more attention paid to Michelle Obama's outfit than usual.
And Obama did not disappoint: She looked her usual elegant and diplomatic self in a Carolina Herrera dress, featuring a lace bodice and substantially trained silk-faille skirt (described in a press release as "liberty blue" — a stark contrast to the warm reds and browns of Herrera's fall collection, which debuted yesterday in New York.) Though it is not Obama's first time wearing the designer, it is, according to the Washington Post, the first time she's worn sleeves to a state dinner. Previous picks include her signature one-shoulder look — Peter Soronen in 2010 and Doo-Ri Chung in 2011 — as well as the strapless Naeem Khan gown she wore in 2009.
Other guests included everyone from Bradley Cooper to Mary J. Blige, and even Cosmopolitan editor Joanna Coles, who fretted in the New York Times that she hoped her own dress — featuring a tight-fighting leather bodice — "wasn't too slutty."