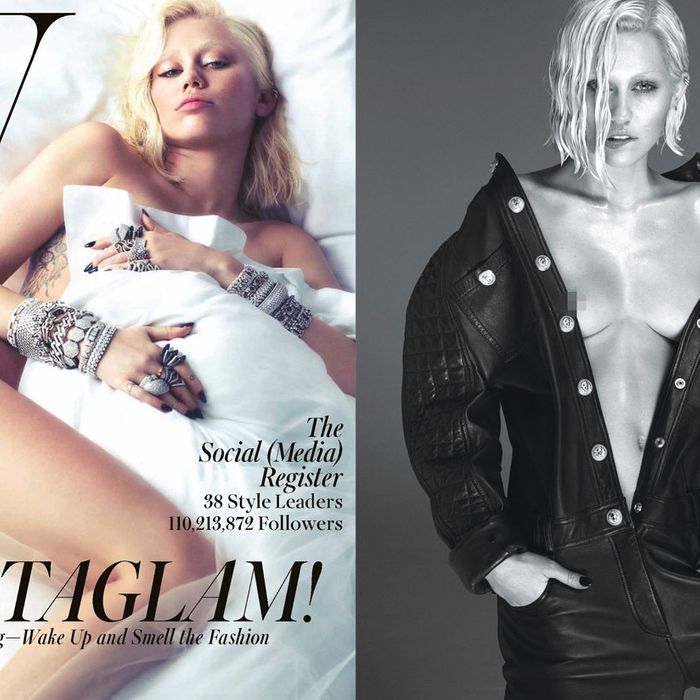 Photo: Mert Alas and Marcus Piggot for W
Miley Cyrus continues to gracefully toe the line between high-fashion provocateur and raunchy former child star in this month's W. Her platinum bob, bleached out eyebrows, and edgy, wet look say "fashion," while the casually exposed nipple says "RIP Hannah Montana x 1,000."
In the Mert Alas– and Marcus Piggot–shot spread and Ronan Farrow–penned "Molly Bloom"–esque interview, Cyrus reveals the governing philosophies behind her high-leotard, crop-top, and booty-short-centric makeover of 2013. First, she attributes her love of near nudity to her childhood spent on an idyllic 500-acre farm in Franklin, Tennessee, where she spent all summer outside. "We never were inside, and we never wore shoes," she recalls. "I think it's why I like wearing no clothes so much and I'm always naked."
It's also a rebellion to the overdone, unsexy, boring clothes that everybody else is wearing. Instead, she embraces "personal style":
'I just don't get what half the girls are wearing. Everyone to me seems like Vanna White. I'm trying to tell girls, like, "Fuck that. You don't have to wear makeup. You don't have to have long blonde hair and big titties. That's not what it's about. It's, like, personal style."'
But deep down, her racy personal style can just be attributed to the same charming "devil may care" attitude that inspires her twerking, tongue-wagging, and love of weed. Because she's really not like other Disney stars, okay?
'I don't give a shit. I'm not Disney, where they have, like, an Asian girl, a black girl, and a white girl, to be politically correct, and, like, everyone has bright-colored T-shirts. You know, it's like, I'm not making any kind of statement.'
Miley, anti-statement maker, is making absolutely no statements of any kind with this W article.