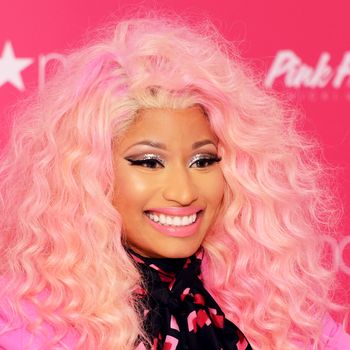 Photo: Dimitrios Kambouris/Getty Images
Nicki Minaj is most recognizable in her statement wigs, be they flowing and flaxen or puffy and pink. Thus, it is especially dramatic and highly distressing to hear that the very person responsible for Minaj's synthetic signature — her very own "wig guru" — is suing her. Time reports that Terrence Davidson, Minaj's former employee, says that Nicki Minaj has stolen designs he created for her (she sells wigs on her website) and left him out of the significant profits.

Davidson's lawyers have included pictures of the hairpieces in the legal text, so this is likely the pinkest, brightest, most fun-looking lawsuit anyone has ever gazed upon. The wigs in question include but are not limited to: "Pink Upper Bun Wig," "Fox Fur Wig," "Pink High Top Wig," and "SuperBass Wig."
Davidson began working with Minaj in 2010, when the wigs played a crucial role in defining her particular brand of pop star. He left her team ("creative differences," of course) in January 2013. Before that, the two reportedly had plans to go into wig business together and even share in a reality show.

Do you have a wig guru? Who doesn't. Better treat him nice.