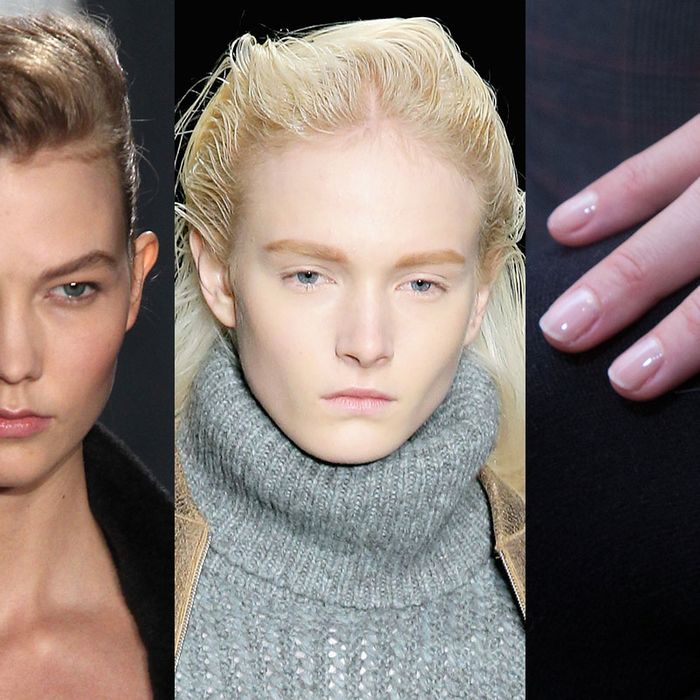 Maybe it's the lack of sleep, or the fact that I'm on Day "Naked Fetal Position Emoji" of Fashion Week, but here are some existential beauty quandaries rolling around in my brain: Can we consider "nude" a color? Are there any usable beauty "trends" regular people can take away from Fashion Week? Can you write the words "no-makeup makeup" without cringing at the lack of verbal inventiveness? All these questions and more were on my mind this week as I did the usual beauty editor junket, faithfully reporting on the beauty looks for fall 2014.
Typically in a season, there is enough commonality between runway looks to group them loosely together as "trends." See: last season's orange lips or the blue eyeliner from two seasons ago. This time around, the main concept at almost every show I went to was "raw beauty," with an emphasis on brows, very little contouring, and natural lip colors. After two seasons of strong eye looks at Jason Wu, Diane Kendal for Lancome brought a truly barely there, boyish makeup look, focusing on creating defined brows with soft edges. At 3.1 Phillip Lim, Francelle Daly for NARS took inspiration from New-wave French cinema and drew strong brows with a strong beginning and tapered edges. Even the nail looks were nude. At rag & bone, Jin Soon Choi joked to beauty editors, "I have a fun new color for you!" and then unfurled her fingers to reveal … drumroll … a nude. 

What are the takeaways from a season of barely there makeup? In the case of most people I know, that's their day-to-day default anyway. So what does it all mean for the regular consumer? According to the makeup artists who actually created the looks, very little. As Gucci Westman, Revlon creative director said, "Nothing. It means nothing. Just do what you like." Dick Page, artistic director for Shiseido Cosmetics, echoed that sentiment. "Nothing. Except that you could use the runway as an inspiration to get out of a rut or routine. That's what I tell my makeup artists all the time. If you do the same thing over and over again, it starts to become routine and a little boring."
So maybe the takeaway from this Fashion Week is that beauty is trendless. Or that we are reaching a Celine moment in beauty and a directive to focus on eyebrow architecture, rather than the razzle-dazzle of a hot new color. Or, perhaps it means we have to wait and see what the three other cities of Fashion Month present.