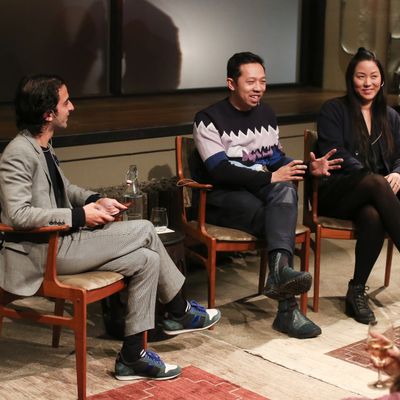 Photo: Benjamin Lozovsky/BFAnyc.com/BFA NYC
Carol Lim and Humberto Leon, co-creative directors of Opening Ceremony (and the masterminds of the Great Chocolate Wall), have announced their next collaboration: a collection with the Magritte Foundation.
They will present a Magritte-inspired collection of ready-to-wear for men and women during London Fashion Week next week, and it will include a capsule collection with three footwear brands: Manolo Blahnik, Birkenstocks, and Vans — which sounds like the setup to some strange fashion joke about a horse and a bar.
"We really wanted to think about this triptych of footwear, and think about different types of people," Leon told Business of Fashion's Imran Amed during a conversation at NeueHouse last night. "Everyone in the office wants it."
After their year focusing the OC brand around Belgium (that chocolate wall was just the icing on the cake), Leon and Lim also shared the next country they're going to focus on: Russia. "In September we're going to do a big focus on Russia," Leon said. "The gay-rights issue was really front and center when we were talking about the country. We thought, is there a way we can bring light to this and refocus on the arts and fashion and culture? How can we bring light to this country that is so strict about these issues that mean a lot to us personally?"
They were disappointingly vague about their collaboration on a wearable device for Intel (which will debut at some point later this year), other than to say they want it to be something people would want to wear every day. Which pretty much could be anything?