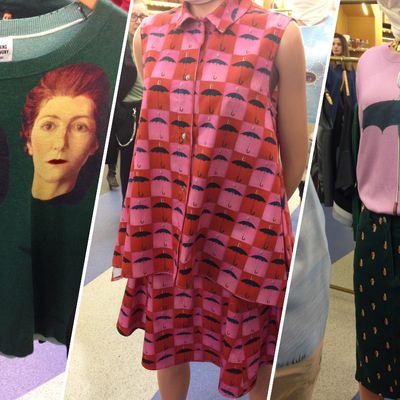 Photo: Hattie CrisellTim P. Whitby/Getty Images
LONDON – After their show in New York last week, which featured a wall of dripping chocolate,  Opening Ceremony's Carol Lim and Humberto Leon have turned their focus to a new collection inspired by René Magritte, which they presented in London today.
The collection uses images by the Belgian artist on womenswear, menswear, and footwear — the latter in the form of collaborations with Vans, Birkenstock, and Manolo Blahnik. Some of the images are enhanced with embellishment and embroidery, though it's obvious that the brand has been careful not to overpower the original artwork.
There's an eerie, floating face from the painting Scheherezade (1950) printed on a skater dress and decorated with pearls. A glass of water perched on an umbrella — from Hegel's Holiday (1958 and 1959) — shows up on the front of a sweater and as a tiny print on a layered dress. And The Lovers (1928), which shows a kissing couple with their heads wrapped in fabric, appears on a pair of Birkenstocks. (Opening Ceremony also wrapped up mannequins' heads in fabric for the launch.) One standout piece was a green sweater featuring a detail from Double Reality (1936) — a woman's floating head with lips embroidered in red.
Manolo Blahnik's contribution to the collection wasn't on view during the presentation today, but Opening Ceremony reps told the Cut it will include a stiletto printed with Magritte's 1952 work The Blow to the Heart, showing a flower holding a dagger. It's an appropriate analogy, considering how we'll likely need self-defense moves to get our hands on this collection before it's all gone.