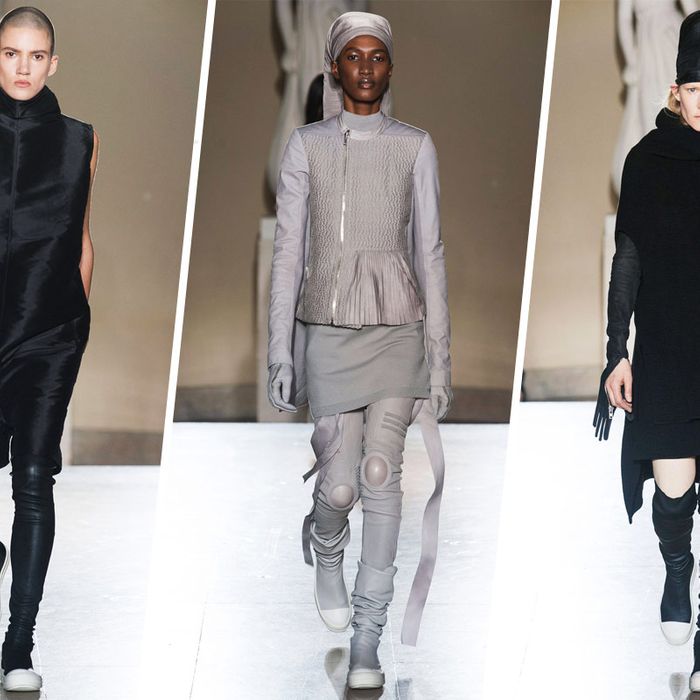 When debuting a collection, presentation rules. Whether designers show their clothes one-on-one by appointment, in the round, or on a grand arena, their choice speaks to their brand and the relationship they want the audience to have with their clothes. How important is it for a guest to feel or even see the fabric? Is the true dynamism of a collection best experienced on a traditional, broad stage from which the clothes can prove their ability to romance even those assigned to seats in the rafters?
One of the first designers to eschew the opulence of the modern-day, elevated catwalk in favor of a street-level runway was Helmut Lang, whose work in the late 1990s and early 2000s defined contemporary urban style. Not only did he put both men and women on a single runway, he sent the models racing along a path that wound through a maze of seats, making it virtually impossible to zero in — or obsess over — a single detail. The impression was one of watching urban dwellers moving briskly down a city street, leaving the viewer with little more than a sense of attitude, mood, and confidence. The models often made multiple passes, as if you were encountering the same familiar but unknown neighbors, again and again. Fashion gained a new kind of cool realism thanks to this style of presentation, which has now become quite common. It serves a practical purpose too, allowing for more front-row seats, which means less wailing and gnashing of teeth. Rick Owens channeled this power of street-level intimacy at his presentation Thursday evening.
In the past Owens has made a habit of showing his work in an expansive performance space. His models were not elevated, but they were at least 20 feet from the nearest viewer. The individuality of each woman was easily lost, her face just a blur. This time, his models — "real women" of varying shape, color, age, and height — walked just five feet away from the audience. They moved quickly in Owens's leather rompers, woolen tunics, funnel-neck pullovers, hats shaped like air ducts, and do-rags. They were shadowy creatures in black. Earthy urbanites in rich Bordeaux. They also wore sophisticated hues of dove gray and snowy white, as well as rustic patterns — colored charcoal gray or black — on cocoon-like coats that were both tribal and elegant.

The idea of urban nomads is one that the American designer Yeohlee Teng has talked about and explored at length. In essence: Our clothes shelter, protect, and identify us, allowing us to feel at home wherever we go. At Owens's fall 2014 show, there was a familiar sense of women moving through life wearing clothes that moved beyond aesthetics; they were security. They were home.

Owens's clothes come to life on "real women" in a way that they do not on professional models. Women who promenade for a living are adept at suppressing their personality in the face of fashion. But Owens's clothes often have a shapeless idiosyncrasy that finds its true form on a woman who cannot be anything other than herself. Ultimately, her personality gives the garments their structure.

Of course, Owens's clothes have their own unique bravado — simultaneously androgynous, sensual, tough, and endearing. They are a particularly artful and cozy space in which to reside. Intimacy serves them well. For they are more yurt than skyscraper.