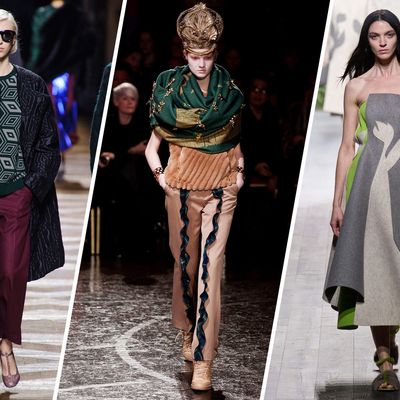 Designers unveiling a collection in Paris face an unfair burden. Audiences lean forward, practically demanding to be mesmerized. But even in the world's fashion capital, most collections never rise to that daunting level. Most collections are, quite simply, nice. As in life itself, the quotidian outnumbers the extraordinary.

So as the fall 2014 Paris ready-to-wear season unfurls, the majority of the clothes that have come down the runway so far have been pleasant, but not jaw-dropping; intriguing but not heart-stopping.
Cédric Charlier designed a lovely collection of roomy overcoats with exposed seams and contrasting sleeves. When Anthony Vaccarello wasn't slicing up dresses and hiking skirts up to wonderland, he was creating terrific biker jackets and tuxedo pants that were full of strut and bravado. And from Yang Li, who has been racking up interest from retailers, there were audacious double-faced, fitted jackets with rough hemlines, navy trousers with elephant-wide legs, whimsical references to "dreamer" in scout patches on jackets, and unorthodox uses of fur — skirts, bustiers, T-shirts!
Even one of several designer debuts this season barely caused a ripple. Alessandro dell'Acqua's first collection for Rochas reiterated the grown-up silhouettes and embellished fabrics embraced by his predecessor, Marco Zanini. But in dell'Acqua's hands, everything was bigger, overwhelming — but not fantastically, uniquely, over-the-top. Tent-shaped coats swallowed up models, but lacked gutsy theatricality. A-line tops were awkwardly stuffed with ruffles, leaving the models looking chubby rather than glamorously mannered. Giant baubles hung like ball-bearings from skirts and dresses. And a ball skirt was so enormous that the model appeared to be gliding down the runway lost inside a rather uninspired Rose Bowl float. Dell'Acqua clearly admires bold gestures; one only hopes that with time he uses them to make his own bold statements.
Just as one began to worry that Paris would offer no fireworks — an admittedly premature lament since the season isn't even 48 hours old, but fashion audiences require rapid-fire stimulation — along came Dries Van Noten, Undercover's Jun Takahashi, and the team at Vionnet.
Takahashi enchanted. And the designers at Vionnet, well, God bless them for at least not sending the models out naked. But it was the great Van Noten who provided reassurance that, no matter what the next days may bring, Paris will not disappoint.
Van Noten is not the sort of designer who attracts an avalanche of superlatives — though he surely deserves at least a few of them. To that end, he will be honored with an exhibition, "Dries Van Noten: Inspirations," opening March 1 at the Musée des Arts Décoratifs in Paris. His eccentric color palette, his gentle way with sparkles, and his precise but relaxed tailoring all appear effortless. He is not an ostentatious man and so, one does not refer to him in an extravagant way. His collections speak with easy eloquence about his personal aesthetic, his deeply held point of view, and his creative confidence. He never seems to grasp for the right hue, the perfect line, or the appropriate flourish. It all flows with a kind of inevitability. And you are left thinking, Well, of course. How else could it be?

In past collections, Van Noten has made convincing arguments for feather boas at lunch, sequins in a business meeting, African prints on the Upper East Side, and grunge plaid at cocktails. Harkening back to the days before the modern fashion industry was born, when artistry was in the hands of textile-makers, Van Noten respects the intrinsic beauty of his raw materials arguably more than any other designer today. As is so often the case, the heart of his fall 2014 collection, which he showed at Paris's City Hall, rests in the majesty of his fabric — the bold floral prints in bright orange and yellow, the dizzying wave patterns that shimmer with sequins, and the reckless mixing of the two.

His vintage shapes, from roomy shin-length dresses and sculpted skirts with ruffled hemlines, to mannish trousers and oversize coats, felt almost frumpy. There is nothing overtly sexy about the silhouettes. Yet the fabric forces the eye do a double take, to linger. All too often, fashion goes for the quick hit, the revealing miniskirt or splayed open dress. In an instant of splashy sex appeal, the story unfolds, the plotline ends and the message becomes a bore. Van Noten's nearly timeless clothes are like a slow, evocative narrative that only grows richer every time it's told.

The strength of the best designers can be defined as a combination of confidence and aptitude. They have a keen empathy for what it means to move through life in someone else's shoes. They may not wholly understand women, but they make a good faith effort to try. And then they move forward in their atelier with a level of skill and certitude that builds trust. Undercover's Takahashi does not evoke such a high level of faith — not yet — but his fairy tale of a collection for fall exudes charisma and charm. He began his story with references to nobility and military bravado thanks to jackets woven with streaming sashes, full trousers with foot-deep cuffs, and rough-hewn crowns and tiaras as accessories. He then played with tailoring using tartan trousers, layered skirts, and jackets draped with flowing capes. And again: teeny-tiny diadems.
The final chapter included dresses and coats in a cacophony of porcelain prints, whole ensembles in bright cherry red or cobalt blue topped off with a matching turban and ivory princess dresses worn by models each gently carrying a shiny red apple. It was a magical tale that was at turns delightful and melancholy, sweetly whimsical and deliberately dark. In a day of nearly back-to-back shows, Takahashi managed to stop his guests from checking the time, stop them from thinking about the next appointment. Instead of leaning forward, they could sit back and take pleasure in his show.
There was no joy at Vionnet, not even a spoonful of Schadenfreude over the startlingly disjointed, unintentional comedy that unfolded on the brand's runway under a tent tucked into a corner of the Tuileries Gardens. The sun had gone down by the time the Vionnet presentation was scheduled to begin and so a long, white carpet and the beautiful, but eerie, glow of footlights marked the path through the garden. Inside the tent, a soundtrack of whistling wind played as white lights flickered around a stage set with rows of white tulips, which seemed like an out-of-sync flourish, since tulips are associated with springtime and this was a fall collection. But no matter. No one ever said fashion had to be logical, so long as it was good.
The first models streamed out in folkloric dresses of heavy wool. And just as the eye was adjusting to the idea of Sochi as a point of fashion inspiration, the collection shifted to a silhouette of acid green harem pants slit open at the sides. I have dug deep trying to grasp why anyone would sign off on these profoundly unattractive and impractical pants and I have come up empty. While they do not represent a new nadir in the annals of modern fashion notions, they certainly reach the Lindsay Lo-heinous depths of the genie pants from the spring 2010 Emanuel Ungaro collection over which the troubled actress presided as artistic adviser.
No blame, however, can be laid at the feet of some wayward starlet. The Vionnet ready-to-wear collection is under the guidance of creative director, chairman, and owner Goga Ashkenazi. Soon after buying the company in 2012, she had the wherewithal to hire Hussein Chalayan to design the brand's new "demi-couture" line. May the gods have mercy on us all and convince Ashkenazi to entrust the ready-to-wear line to him as well.