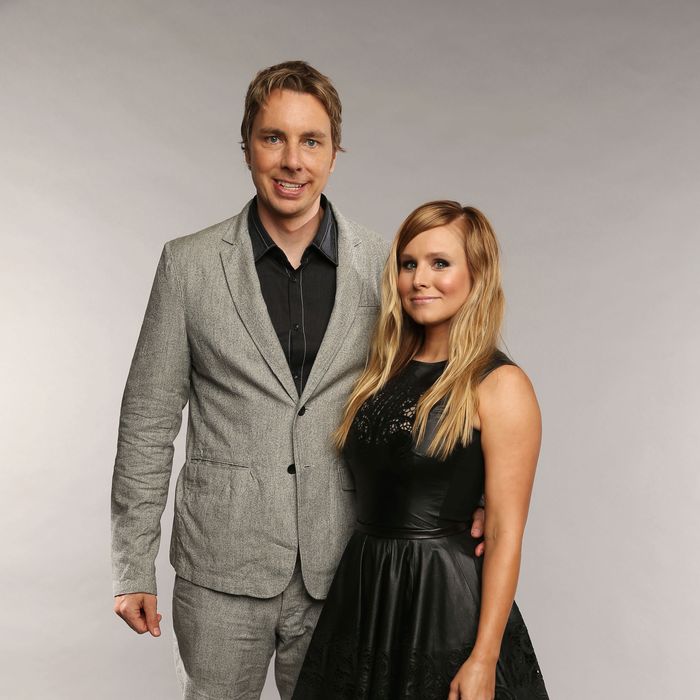 Photo: Christopher Polk/Getty Images
Kristen Bell and Dax Shepard have achieved a paradoxical feat: Their plea for privacy has captured the media's attention. Recently, the couple have been speaking out against paparazzi shots of celebrity children, urging a boycott of magazines that run the offending pictures — in a HuffPo column, Shepard expressed his hope that "one of the classier weeklies, like People, will enact a no-kids policy." And now his wish has come true, at least sort of.
In a letter from the editor, editorial director of People Jess Cagle said that, partially in response to various concerned celebrities (Jennifer Garner, Halle Berry), the magazine will no longer "publish photos of celebs' kids taken against their parents' wishes, in print or online." There is, however, a snappy little bite to this editorial missive:
Of course, we still run a lot of sanctioned photos — like exclusive baby pictures taken with the cooperation of celebrity parents, and photos of stars posing with their kids at events (like a red carpet) where they're expecting and willing to be photographed. But we have no interest in running kids' photos taken under duress. Of course, there may be rare exceptions based on the newsworthiness of photos. And there's always the tough balancing act we face when dealing with stars who exploit their children one day, and complain about loss of privacy the next.
Way to turn that lens around and point out that some celebrities do use their offspring to benefit their own celebrity.
Of course, People is in a particularly good position to make this move. They specialize in extremely sanctioned, handsomely compensated photographs of celebrity children. Their end game is a pastel, gently lit cover photo of a celebrity holding a wee child, underneath text shouting "EXCLUSIVE FIRST LOOK." If unsanctioned photos move out of vogue, People will corner that questionable market of famous people's (now famous) kids. Also, great out they've got there in cases of "newsworthiness." Tiny famous person's child at center of international spy ring and diamond heist! Publish all the unsanctioned photos!