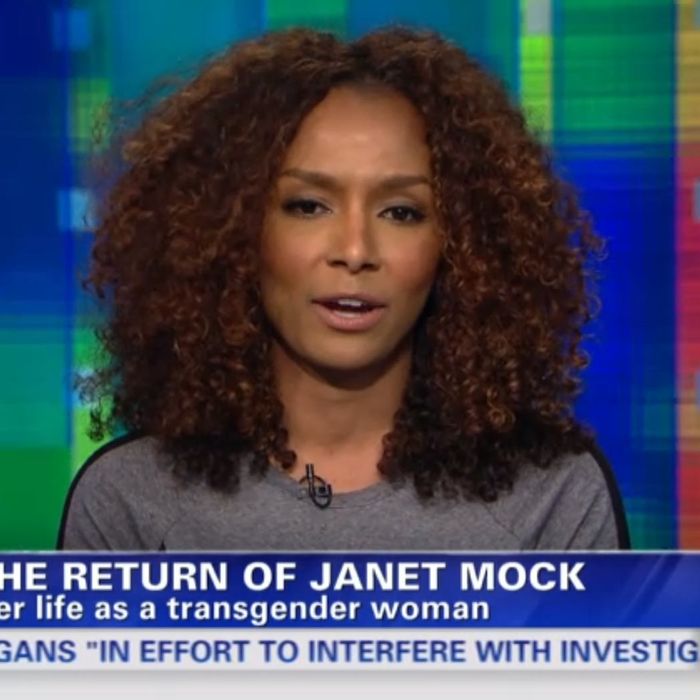 Piers Morgan showed that transgender woman of color memoirist who's boss. The CNN host brought Redefining Realness author Janet Mock back on his show last night, following Tuesday's airing of their pretaped segment. Mock had tweeted her dissatisfaction with the show's editing and promotion, which cut Morgan to his core. He replied: "I'll deal with you tomorrow night on air @janetmock - never been treated in such a disgraceful manner. Be proud."
Mock's crime? Inciting an alleged firestorm of abuse against Morgan. "I have spent literally 12 hours being viciously abused by the transgender community, egged on by your own tweeting last night," he told her last night.
For reference, here is Mock's incendiary tweet heard 'round the world.
"I want you to explain to me why you seemed quite happy with the interview afterward," Morgan demanded. "Why you then felt the need to tweet these quite hostile tweets in my direction and spark this furor among the transgender community."
"Why have I been vilified for being transparently supportive of you? I don't get it. Explain to me. Explain to me what I did wrong."
Watch Morgan repeatedly shout down or ignore Mock's patient explanations of what he did wrong in the video below.
Morgan's indisputable proof that he could not have offended anyone is a 2011 Marie Claire as-told-to Mock participated in, which ran under the headline, "I Was Born a Boy." Mock explained to Morgan she didn't write the piece or choose its headline. More important, Mock criticized the magazine's framing and its use of "boy" on her personal blog, just as she did Morgan's show. Somehow, the editorial staff of Marie Claire managed to hear that feedback without spiraling into a Twitter rage and crying "cisphobia."