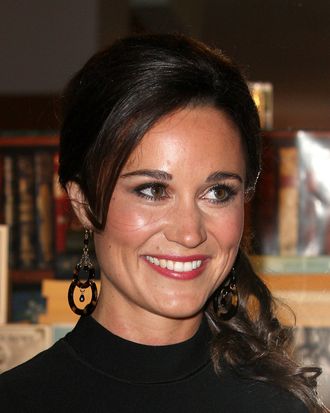 Photo: Danny Martindale/Getty Images
Have you heard that oysters are an aphrodisiac? It's possible you've heard that. It's a common thing that gets said about oysters. However, it remains unproven, because the heart and libido are mysteries of the human condition. So perhaps you have wondered: Are oysters really an aphrodisiac?
This is the title of the latest Telegraph column written by your favorite Yahoo Answers source, Pippa Middleton. While one Middleton sister is being told to cover her sensual, carnal knees, for England's sake, the other is trying out all the sex foods. 
She writes:
My first question, then, to Mark Stubbs, head chef at Wheelers Oyster Bar on Whitstable High Street was: 'Are oysters really an aphrodisiac?' He smiled knowingly and began to reminisce about the festival, telling me he'd sold around 4,500 oysters in just two days. I was going to have to work for my answer.
I'm not sure that knowingly was the right word, because — big, succulent spoiler alert — we never find out if oysters are an aphrodisiac. We never learn! Pippa never learns! We are still innocent lambs about lustful shellfish folklore. After long oyster-shucking and oyster-eating lessons, Pippa does manage to cajole Mr. Stubbs into saying that certain amino acids and serotonin do give people a "feel-good factor." I'll take it, thought Pippa, as she wrote his answer down, and moved on to the other unknowable questions she had about the universe.