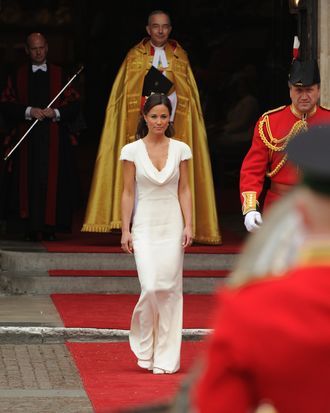 Photo: Carl De Souza/AFP/Getty Images
At a dinner for Women in Advertising and Communications last night, Pippa Middleton opened up about something she wishes was behind her. At her sister's Royal Wedding, Pippa's tailored Alexander McQueen bridesmaid dress unexpectedly boosted her assets into the harsh spotlight. She might have been bummed out, she might have felt she was at rock bottom — butt, through it all, Pippa knows the best way out is puns:
As I have found out, recognition has its upside, its downside and — you may say — its backside.
You know what, Pips, she said to herself, no ifs, ands, or butts about this. They may seem cheeky now, but they'll drop it. Bottom line, this bubble will blow over. Ass if they could get me down. And she got up off of that thing and began to pursue her curious dreams, which is something we can get behind.