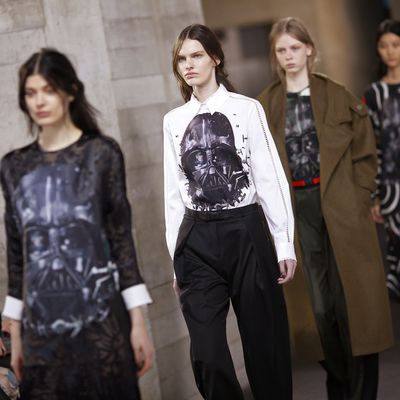 Photo: JUSTIN TALLIS/AFP/Getty Images
Preen is now the second designer to mine a galaxy, far, far away for sartorial inspiration: During its show in London yesterday, the label presented dresses dedicated to the Sith Lord himself, with Darth Vader's face emerging from dizzying prints.
The dresses were only slightly more subtle than Rodarte's much-Instagrammed Star Wars moment last week, but were a full-on nerd homage nonetheless. (No longer do we have to wear thrifted Yoda T-shirts; designers are making them for us!)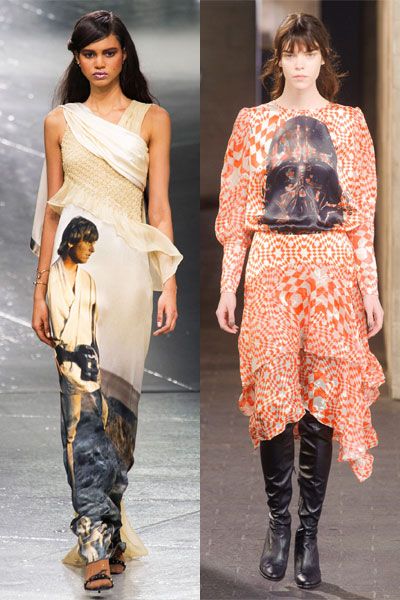 While designers often unintentionally make fancy clothes that are perfect for sci-fi conventions, Rodarte and Preen appear to have, unbeknownst to each other, made the (awesome) decision to pay tribute to the greatest trilogy in existence. Or maybe there is a whole science-fiction fashion underground scene we don't know about (please say yes)? Sci-fash or Science-fashction? Does this mean one day there will be a Marc Jacobs–hosted D&D club or a Kenzo Trekkie convention? We see the whole world, and it is beautiful.

By the handy "how do journalists count to three?" rule, if one more designer shows a Star Wars–themed collection, it will officially become a fall/winter trend — and thereby acceptable for us to wear our Stormtrooper costumes to the office.