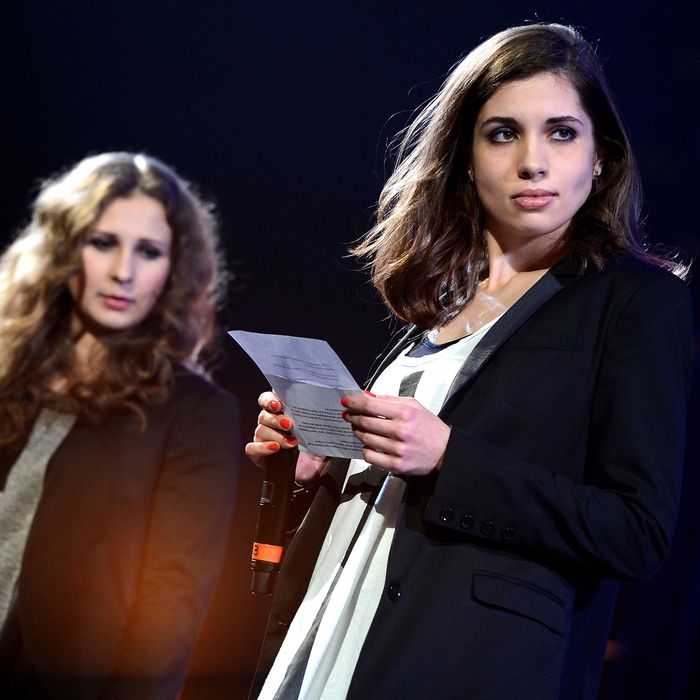 Photo: Theo Wargo/Getty Images
"I'd like to thank Pussy Riot for making the word pussy a say-able word in my household," said Madonna, welcoming the Russian activists (released in December after their 2012 arrest for hooliganism) to the Barclays Center stage. "It was once in the illegal word category with my two 8-year-olds, and now they go around saying 'pussy' all the time," Madonna explained. "In reference to Pussy Riot, of course."
On the eve of the Sochi Olympics, Madonna had joined Pussy Riot and ten other artists for Amnesty International's Bring Human Rights Home concert, aimed at raising awareness of international atrocities. The evening included appearances from Blondie, Lauryn Hill, Tegan and Sara, and the Flaming Lips with Yoko Ono and Sean Lennon; Susan Sarandon served as co-host. It was a lineup that attracted both well-heeled young south Brooklynites and fiftysomethings who seemed to be recalling the good old Amnesty benefit concerts of yore.
"I've always considered myself a freedom fighter," Madonna told the packed house. "Since the early eighties when I realized I had a voice and I could sing more than songs about being a material girl or feeling like a virgin. When I went to Russia and saw what was going on with Pussy Riot and this trial, and saw what was going on with the gay community, was how lucky I was and am, to live in a country where I can speak my mind."

Neither Madonna nor Pussy Riot were slated to perform, however. Instead, Nadezhda Tolokonnikova and Maria Alyokhina read selections from statements by a handful of Russian citizens scheduled to be sentenced later this month for protesting Putin's election. As they took the stage and hugged Madonna cordially, they addressed the audience in Russian. They wore T-shirts with matching crosses under black blazers and made for an austere, reserved stage presence. Through a translator, they thanked the audience for supporting them while in jail, and used the rest of their ten-minute speech to discuss the injustices of Putin's regime and those still imprisoned in Russia.

"We have to remember that freedom is not a given, it is something that we have to fight for and we have to stand for every day," the translator read. "All of you can demand this freedom and this freedom will happen, if each of you is not afraid to show that they care, and show that they will not stand for this … We will not forgive and we will not forget what the regime is doing to our fellow citizens, so we demand a Russia that is free, a Russia without Putin."
"This is a lot quieter than the Red Hot Chili Peppers this weekend," a gear tech told me backstage, as we watched the show from behind scaffolding. In the bowels of the Barlcays Center, I found the Flaming Lips' Wayne Coyne, who had just finished taping his costume together and was chatting with Sean Lennon in a practice gym turned green room. I asked about Lennon about the Olympics.
"If I went to Russia, I would wear a gay flag on my face," Lennon said. "I actually thought Putin was really intelligent until he outlawed gayness. I think that he's gay, probably, and that's probably the problem. I mean look at him, with the shirt off and the horse? I want to take MDMA with Putin an have a gay orgy — just me and him and his staff of love goblins."
By the time the Flaming Lips and Lennon took the stage, though, that exuberant spirit appeared to be in short supply: The crowd was tired.
"Some people already got too drunk to join us," Coyne said, as a handful of Amnesty organizers trooped onstage with him. Madonna, Pussy Riot, Lauryn Hill, Blondie, and Sarandon were nowhere to be found, and so they missed the night's big wave-your-lighter number. Those who remained onstage swayed in unison to Dylan's 1967 liberation favorite, "I Shall Be Released."
"I see my light come shining … from the west down to the east," Coyne sang. "Any day now, any day now, I shall be released."