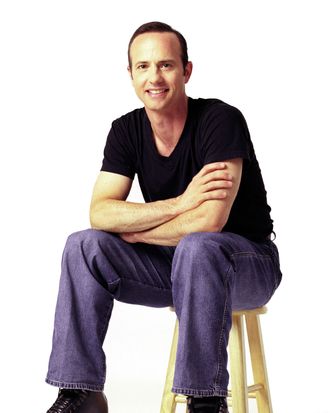 Some figure skaters have a tough time adjusting to life outside the rink. Quite the contrary for 1988 Olympic gold medalist Brian Boitano, who's earned the title of lifestyle expert. His new show, The Brian Boitano Project (on HGTV), chronicles his journey to Favale di Malvaro, Italy, where he purchased a 200-year-old villa (for $33,000 U.S.) that he found out had belonged to his ancestors, and converted it, step by step, into a rustic summer hideaway. (It's not his first TV foray: His Food Network show, What Would Brian Boitano Make? — a title that riffed off the South Park sketch, What Would Brian Boitano Do? — spawned a 2013 cookbook of the same name.)
But Boitano's latest role has nothing to do with bruschetta or backsplashes. He's on the commission chosen by President Obama to be part of the U.S. delegation at the Sochi Olympics, which includes openly gay athletes Billie Jean King and Caitlin Cahow. Because of this, the skater, always private about his sexuality, came out as gay. So, in anticipation of Boitano's Russian moment, the Cut asked him — a day before leaving for Sochi on Wednesday morning — about being a quiet-yet-high-profile gay-rights symbol, his designer life, and the involuntary bodily functions that occur during spins on the ice.
You're not a trained designer, but that Italian villa is pretty impressive. Who are your design inspirations? 
I found my inspiration by visiting the outdoor markets in Italy. They're like none I've ever seen in America. They're filled with incredible old treasures, and it's hard to believe people are trying to get rid of them. But the Italians today are all looking for new and sleek, slick and modern. I also got inspiration for the color scheme from the mountains facing the house, which are filled with evergreen, rust, and vibrant earth tones. I incorporated the colors you see out the window into the color scheme inside the house.
When talking about skating, you're always noting that you only competed with yourself … not anyone else. Do you feel this way in the home arena? There are a lot of veteran designers out there … as a newbie, how do you stay confident in your design vision? 
Designing a second home for me to live in is nothing about competition. For me, it was about being true to myself. In studying various combinations of patterns, textures, and colors that other people have put together, I realized there is no strict set of rules to live by. It's more about common sense, choosing what you like, and realizing the art doesn't have to match the rug, which doesn't have to match the furniture.
See, that's just what you've said about skating: that you don't compete with anyone, but then you win. You've become something of a Renaissance man: cooking show, home show, etc. Did you plan things this way?
The idea of having a cooking show was something I was intrigued by, as I've always been interested in food. In fact, I just found one of the original recipes I wrote when I was 12 years old. It was for barbecue sauce. Cooking and skating are very similar in that both crafts take a lot of hard work to master.
Do you speak Italian fluently? Please tell me something dirty, or perhaps a colloquial curse. 
I speak rudimentary Italian. My relatives can understand what I'm talking about, but I'm far from fluent. To rectify that, I plan to take an immersion course this summer. Until then, this is my Italian colloquial saying … "Tale grappa è stato il combustibile per razzi più morbida che abbia mai assaggiato." Translated, it means, "That grappa was the smoothest rocket fuel I've ever tasted." This is true about my aunt: She makes orangecello, limoncello, coco cello, Fernet cello, nocello — her stuff will kick your butt.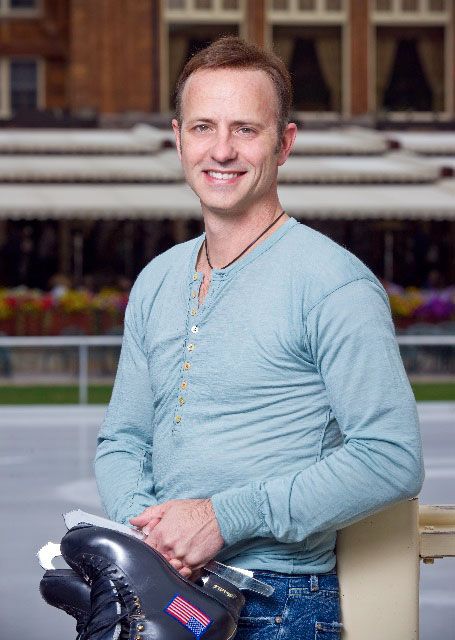 As has been widely reported, you're going to Sochi as an openly gay athlete, having just come out publicly. In coming out, you stressed in no uncertain terms that you really wanted to keep your private life private. But now that you made this step, some have noted that you should go even further and openly condemn Russia's stance on homosexuality. What do you say to that? 
I'm going to Russia as part of the presidential delegation, and as such I'm representing the president's message and his platform, not my personal platform. I believe that the delegation and its composition speaks volumes by just going to Russia. Everyone, including the Russians, understands the message that is being sent by this delegation. Sometimes the things that you don't say are stronger than the things that you do say.
Are you worried about your safety in Sochi? 
I know that safety in Sochi is a top priority for the Russian government, for America, and for the International Olympic Committee. So I trust that every measure is being taken to keep these games safe.
On to the skating: Do you have any predictions for the men's event? Could anyone possibly recapture the glory of your 1988 Olympic win? 
I think we have a great chance of having an American on the medal stand. I don't want to jinx him, so I won't say his name. He's been skating really well, and if he has two good nights of performances, no one can keep him off the podium. His initials are J.A.
Has a fan ever sent you X-rated photos or anything else inappropriate (or extremely appropriate, maybe, depending on your perspective!)? 
I have received inappropriate letters. And even books, whole books, that have been self-published. I just ignore them.
Have you ever sneezed during a performance? And if so, did it make you fall? I have wondered about the physics of this since I was a young child with allergies, skating along with Katarina Witt to "Carmen" in my living room.
I have never sneezed in a performance. The closest thing to a sneeze is when your nose starts to run while you're spinning. The centrifugal force just pulls the fluid out of your nose.