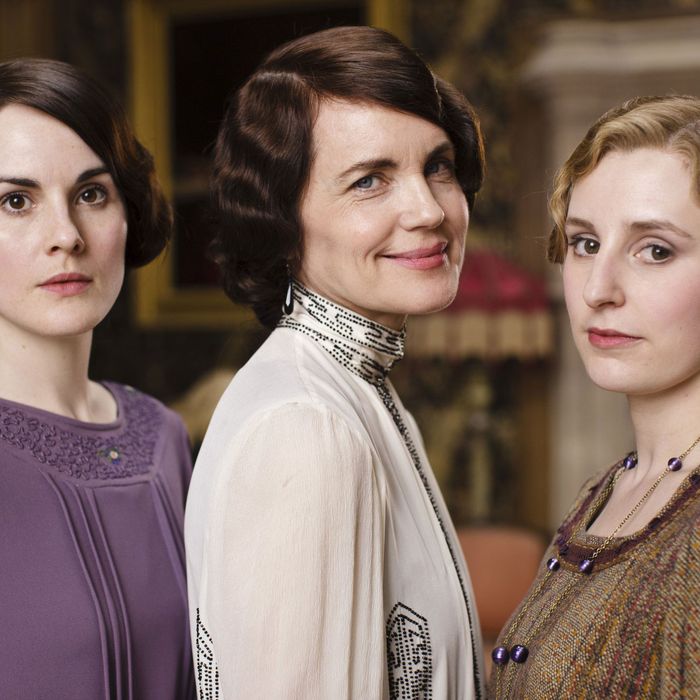 Last night's season finale of Downton Abbey was, in many ways, its most fashion-packed yet: Between the gowns for Lady Rose's debut, and uniforms of the entire Royal Court — including King George and Queen Mary — even Downton's Emmy-winning costume designer, Caroline McCall, called the episode a "mammoth undertaking." The Cut spoke with McCall about transitioning the Crawleys through the early Jazz age, her design inspirations (which include Vionnet and Chanel) — and why Shirley MacLaine is always welcome in the British Isles.
Season four takes place just before the start of the Jazz Age and everyone is slowly adjusting to modernity. How did you interpret that visually?
The early '20s is not as familiar to people as the flapper era, but there is an elegance and sophistication and opulence after the War. We start the [season] quite somber. They're all just coming out of mourning, so all of the characters are in mauves and grays and Mary is in black. 

What were you thinking when you saw the "love in the muck" scene, from earlier this season, when Lady Mary and Charles are destroying all those gorgeous costumes to save the pigs?
Well, how am I going to manage to make repeat dresses? I obviously can't use anything original. It's got to be something that's new because you've got to have to repeats, and it gets really mucky. [Creator Julian Fellowes] wrote that he wanted to see her in her dress, so we had to make the dress look appropriate to be walking down the road. It couldn't be a really bare evening dress because that would have looked silly.
I know you've said in the past that the Dowager Countess [Maggie Smith] is a proper Edwardian woman. Did you update her look for this season? 
The fabrics have changed since the Edwardian age, so now they're a lot softer and drapey-er.   

Everyone is falling in love this season, even Molesley! Did you dress anyone any differently as a result? 
Edith has changed the most. We wanted to make her look completely different. There's the scene at the Criterion, and this is sort of a moment where she's broken free of the mourning at Downton, and the darkness and the sadness that is there. When you see her in London she's in these bright colors. I wanted her to have this alluring sensuality that we haven't seen before, and show a lot of flesh. I was looking at the illustrations of George Barbier, and there's lots of illustrations of dresses with barely anything on the shoulders and the back, and dresses that were cut almost to the point where you could nearly see the line of the bosom. It's really quite risqué. 

What designers did you look at specifically this season? 
Lady Mary's character wears quite a lot of things that are inspired by Madeleine Vionnet. There's also Lanvin, Chanel, Paul Poiret, and Edward Molyneux.
How did you create the look of the debutante presentation?
I looked at lots of reference of actual debutantes and then talked to Julian [Fellowes] about which way we wanted to go with Lady Rose. Should she be more modern and outrageous and wear something that would really upset her mother? Or something more romantic? He thought to go for something really romantic and beautiful.
I'd looked at this particular dress that was covered in ribbon-work roses, and I worked with a really clever maker and he managed to do all this ribbon work. There were so many rules and regulations about debs that we tried to stick to. The dresses had to be pale colors, they usually wore white or cream, and mothers or whoever was presenting them would wear pale shades as well. We couldn't just go and [rent] debutante dresses because we didn't have a budget. But I began to work with pale dresses that I could find, and then see how I could modify them, and have trains made, and make the feather plumes. There is also all the uniforms. We had to work really hard to get all of those absolutely correct, and costume King George and Queen Mary, and all the royal household. It was a mammoth undertaking.
How did you prepare for the ball itself? 
I talked to the director again about Lady Rose, and how he wanted her to be, and he said she should be in a bright color so she stands out. So again, it's working a palate together. We kept the extras in golds, and silvers, to keep a concentration of color throughout that scene. 

What considerations did you make dressing the Americans, like Shirley MacLaine and Paul Giamatti? 
It was great to get to dress Shirley again. Her character is really the new mummy. She wants to keep with the modern and shake off the past, so, unlike most women of her age, she's dressing in the latest fashions that are acceptable for her age and outrageous gowns that you'd never see Maggie or Cora in. We wanted Paul to have the look of a Rockefeller about him. 

How did the menswear also shift this season? 
In not such a dramatic way as the women, but they're getting nipped-in waists and trousers are starting to have pleats in them so there's more fabric, and the trousers will get wider as the decade goes forward. The collar shape is beginning to change, and things are starting to get more relaxed, moving into the modern man.