Q&A: Lupita Nyong'o's Makeup Artist on Her Red-Carpet Beauty
If Lupita Nyong'o's awards season tour de force were to be renamed in beauty terms, it would be Lupita and the Amazing Technicolor Dream Lips. Since she emerged as a style star this year, Nyong'o has made bold, colorful makeup her signature, from indigo-purple eyes to lilac and cherry-red lips.
To learn more about how these striking looks came together, the Cut spoke to Nick Barose, Nyong'o's makeup artist since the very beginning, about the handwritten letter that jump-started his career, how he finds color inspiration from National Geographic — and hints about what Lupita might look like at the Oscars. Plus, click through the slideshow below to see his favorite beauty products.
How did you get started in the business?
I grew up in Thailand with two sisters and a lot of girl cousins, so I always played with them, like with dolls and dress-up. Then, I moved to New York to study environmental design at Parsons. While there, I realized it wasn't for me. At the time, I was already doing a lot of test shoots for new models and liked it a lot. A photographer friend helped me write a letter to the great Kevyn Aucoin to ask if I could assist him.
You must have written a pretty impressive letter.
It was lucky timing, too, since he needed an assistant for New York Fashion Week. But I have met a lot of people through writing letters. You'd be surprised when people take the time. Now we live in a day and age of Instagram and social media — it's not the same thing. People comment on my Instagram and say, I want to work with you. It doesn't mean anything. But if it's a letter, it really means something. I still do it.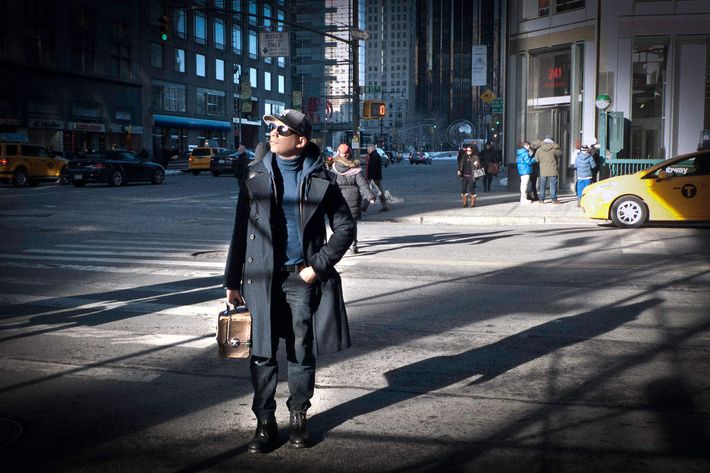 How does your beauty philosophy translate to your work with Nyong'o?
Beauty is something you have to define for yourself. I grew up in Asia at the time where people thought darker skin was not desirable because the beauty ideal there was about alabaster skin. I'm not conscious of race when it comes to my job. When I see a beautiful face in front of me, I just let her beauty inspire me. A lot of what I do transcends race; for example, some of the looks I've done on Lupita have been inspired by Iman, supermodels from the '70s runway, Audrey Hepburn, and Vivien Leigh.
The best compliment I ever got was when somebody said that I bring out their inner beauty. I get to meet these beautiful women, and I'm lucky they are talented, because anyone can be a celebrity if they're paired with the right person. I get to see these beautiful women without makeup. I get a sense of who they are. If you put too much makeup on them, it takes away their personality. For example, too much concealer or too much contour. It's that typical camera-ready face that I hate.
What is the process of working with Lupita like?
She's an artist and enjoys experimenting with makeup. She encourages me to be an artist too. I don't think we have ever used the same lipstick twice. She can carry colors like no one else. When we are getting ready, we are a pretty mellow group, always jamming with music. She turned me on to the artist K'naan. A lot of the makeup looks I've done on her are created spontaneously. I plan it according to the outfits her stylist sends me.
How do you source inspiration?
It's from nature, vintage magazines, old movies, landscapes, flowers, and exotic birds. I grew up with all the birds because my dad had a lot of peacocks. The color in nature and flowers is my go-to for color theory. Once, I was in a hotel lobby, and I saw a bowl of orchids and thought, That would be a good lip color for what someone is wearing today. It was six months ago, though, way before Pantone and radiant orchid.
Photography is also my hobby, so I look at National Geographic landscapes, finding interesting color palettes through those photographs around the world like a temple sunrise at Bangkok, with orange. Or sometimes, it comes from people with the wrong makeup on the subway or a good idea that is not realized well. I keep my eyes open. I feel like I make a point not to look at fashion magazines on the newsstands now.
Why do you think vintage and "Old Hollywood glamour" are such a persistent inspirations for makeup artists?

It just never dies. The 40s is my favorite time because women looked so feminine and seductive. I know for me, personally, because I'm a person of color, when I grew up in the late '70s, there were more models on the runway with that exotic look. They were from all over.
You saw Iman, you saw darker-skinned women, you saw women from all over. When I go back to vintage, I see bold color, like pairing green eyes with burgundy lips or purple with fuchsia eyes or blue eye shadow with red lips. My mom wore a little bit of that. She had that Yves Saint Laurent blue mascara with red lipstick or a Dior fuchsia.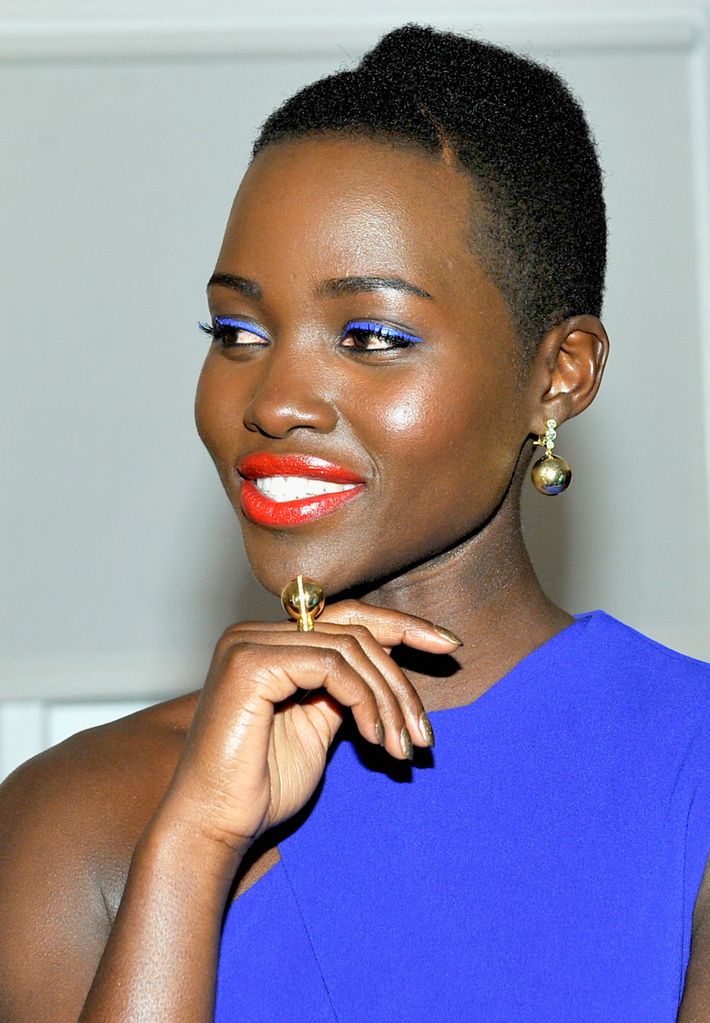 What are your tips for people who are inspired by your colorful work with Lupita and want to play?
Do it in small doses and don't over-think it. It's when you over-think, that it doesn't become unique. You can always start doing color with liner instead of the whole eye, a bright eye in the inner corner, or you can take a bright color and blot it down. A lot of times, I do a bright lipstick but mute it down, or tap it gently. Women need to let go of this as-is attitude, especially people not used to wearing color. They get stuck in the idea of how it looks in the tube, but you need to make it your own.
If you are just starting out, then you can wear color, but keep within the same family. For example, a blue eyeliner with red lipstick might be too much of a contrast. But you can do purple, since purple and red are in the same family. Or you can do a gold eye with orange lips and blue and green eye shadow.
What's one color you wish people embraced more?
Yellow can make you look like you have a kidney disease or be really gorgeous, depending on the texture. But a lot of times with yellow eye shadow, people think it's going to make you look sick. But a sheer gloss or a golden yellow on green or blue eyes could be really beautiful, especially yellow with a hint of shimmer. A neon yellow could be cool, or yellow as an eyeliner would be gorgeous.
What can we expect from Lupita and you for the Oscars?
For the Oscars, I'm going to pay homage to all the classic leading ladies I love watching in Old Hollywood movies and pull elements from here and there. But I'm going to make it very Lupita!