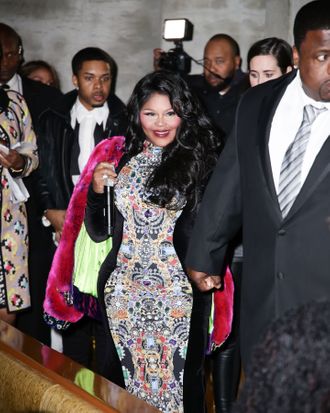 Photo: Matteo Prandoni/BFAnyc.com/BFA NYC
Surprise! Lil' Kim is pregnant (and keeping the identity of the baby's father private at this time). But that didn't stop Miley Cyrus's supposed "past life" alter-ego from dropping two songs last night as a surprise performer at the MAC Cosmetics The Blonds after party. Before paying tribute to Biggie's birthday and asking everyone to put their "Lighters Up," Lil' Kim sat down with the Cut to talk about her first beauty memory (sneaking her mom's Avon) and her "too long" beauty routine.
Congratulations! You have a mommy glow. 
I do? That's good. Because I feel horrible sometimes. Sometimes, I don't even want to put on makeup. And sometimes, I feel so unattractive and blah. You know? [But] I'm very happy. The baby takes everything out of me. But for my baby? Whatever it takes.
What is your day-to-day beauty routine like? 
The one thing I do like is lotion and moisture on my hands and face. I love to have my face moisturized. I like different ones. I like Natura Bissé.
What about for makeup?
Oh my goodness. Honestly, I can't survive without my MAC gloss, pigment — sometimes MAC powder. But definitely my gloss and pigment and liner. I don't do mascara all the time. I do when I wear no lashes. I use the mascara, but when I wear lashes, I don't always do mascara, because it makes it real heavy sometimes.
What's your favorite part of your makeup routine? 
Nothing, because it takes too long! Hours. Two hours, three hours. It varies. From being in the industry as a teenager, I'm so used to getting makeup done all day. The glam team wants to do a really good job and wants to be perfect, so it's 45 minutes for hair, 45 minutes for makeup — it ends up being [a long time] sometimes.
What was your first beauty memory?
I think when I first started wearing red lipstick. I loved it. It just made a difference to me. And from there, I moved to mascara. That's all I used to wear: mascara and lipstick. I think I was 13. I was kind of young. My favorite red lipstick was from … what are those companies that go around to your house?
Avon?
Avon! I got it from my mom. She didn't know. She was looking for that red lipstick for years.