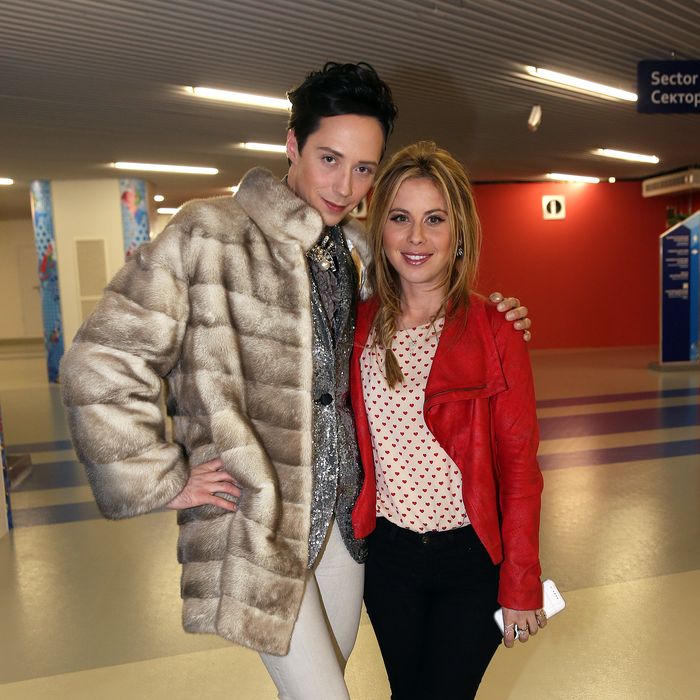 Photo: John Berry/Getty Images
After captivating audiences with their smart commentary and coordinating outfits in Sochi, Johnny Weir and Tara Lipinski emerged – in our minds, at least – as the winners of the Olympic Games.
How perfect, then, that the pair will host Access Hollywood's red-carpet Oscars coverage on Sunday — a perfect combination of their judging and shade-throwing skills. The Cut spoke with Tara and Johnny about how they're getting ready for the Oscars, how they feel about encroaching on Joan Rivers's turf, and what will happen if they see Meryl Streep.
So what have you been doing as far as coordinating your looks? Do you have any ideas?
Johnny Weir: Definitely. We usually take great pride in selecting and shopping and pulling, and we had to call in some help just to get racks of clothes set aside. We were both talking about white and gold and that being our look for Oscars Sunday. We pulled from Chanel, Rick Owens, and Tom Ford. We're just sort of going through everything now and I'm running out at some point today to find perfect shoes. I's all very crazy and last-minute, but we're so enjoying it. 
Tara Lipinski: It's not like identical outfits, but we always love to tie in something. Initially we really felt white or gold, and I don't know, we'll see if that will actually hold up.
Johnny, will you wear a tux or a riff on a tux?
JW: I will do a tux-ish moment. I suppose if you're looking at awards shows and how people dress, I'm bringing a bit of the Grammys to the Oscars. If I showed up to the Oscars in a black tuxedo with a black tie, it wouldn't be authentic, it wouldn't be me, and I would feel like a penguin. I definitely am trying to skirt the line of what is appropriate for the event and what I feel most comfortable and most beautiful in. 
Do you have ideas for the hair and beauty look? Your hair seems very versatile.
JW: My hair is reasonably versatile. It's the hair that I add to my own hair that makes me really versatile. [Laughs] I love playing with hair fashion. I love to design a look or base an idea off a hair style that I've seen someplace else, whether from a black-and-white movie or something I see on runways. I like to try and establish a way I can actually do it on short men's hair. I really take a lot of pride in the creative aspect of my hair and makeup and how I look. For the Oscars I definitely want a bit of a wavy, Elvis Presley-ish, sort of finger-wavy Gatsby moment. 
TL: Johnny and I did an Old Hollywood look in Sochi for one of the Bob Costas shows, and he loved it on me. He was like, "Tara, you have to wear this, you have to wear this at the Oscars, this is what you're wearing!" And I really do love a fun finger-wave, but at the same time, I don't know if I will go that route just because it feels so cliché to do the Old Hollywood look for the Oscars. A beach wave is a happy place for me. So I can't do that for the red carpet, but I would like to find a happy medium of something modern and fun.
How is getting ready to host a big red-carpet gig like this similar to skating in the Olympics?
TL: I think both Johnny and I can agree that competing at an Olympic Games … four minutes changes the rest of your life, and dealing with that intense mental and physical pressure was so traumatic in a way that anything from here on out seems much more fun. I think we both approach it that way. Yes, this is a different atmosphere than what we're used to, but I think at the same time, we feel comfortable in it.
Who wears more makeup?
JW: I think I definitely wear more makeup. 
TL: [Laughs] Sometimes Johnny. On normal days, I don't love makeup. You will not see foundation in my drawer. Obviously I have to wear it for TV, but Johnny loves a good makeup moment.
If I were to look in your makeup bag right now, what would I see in there?
JW: I've been in these situations before when I was younger, and I wouldn't wear a lot of makeup when I was doing television or red carpet, and I would just find myself looking hideous. I'm very anti-shine, I'm very anti-spots. I travel constantly and my skin is very important to me and it doesn't always look its best. My routine for television and the red carpet is to darken the eyebrow, to do a bit of mascara, to definitely contour a bit so I look nice and slim because every camera — I don't care what anyone says — does add ten pounds. I like to look slim and beautiful. I use MAC Prep and Prime translucent powder so I'm not shiny. I hate shiny and I hate dewy. 
Have you given each other any good makeup tips or product recommendations?
JW: If I have a pimple, I do what everyone else does and I try to kill it, then it gets red. I find if I immediately put Neosporin on, it is gone within an hour. I showed Tara in Sochi how well it works. We don't need these alcohol pens and craziness. You just need a little Neosporin! 
Did you guys help each other get ready for the camera in Sochi, and how will you help each other out as you get ready for the Oscars? 
JW: We definitely did. We would prepare our outfits together. We'd come up with a basic theme the night before the broadcast, and then the next day we'd try them out. There were a lot of times when we were late for our cars because we were struggling with one aspect of our outfits. I get smile lines because I smile too much in my makeup and Tara would constantly pat them down for me. I would check her for shine and make sure her hair was looking flat and lovely instead of frizzy on camera because of the headsets. We definitely look after each other and if there's something wrong we're there for one another. Tara actually carries around chocolate bars in her purse in case she gets hungry. Chocolate is her go-to, so I am constantly on chocolate watch to make sure she doesn't smear it on her clothes.
Who are you looking most forward to seeing on the red carpet?
JW: I'm honestly so excited to see Cate Blanchett. I found her really incredible in Blue Jasmine, and she's been a favorite of mine for a long time, since the first Lord of the Rings movie. I absolutely love her. She's my spirit animal and I think when I dream, sometimes I appear as Cate Blanchett. 
TL: It goes back and forth. We did this thing where it was "your prediction of the best red-carpet moment" and I love Dior. I have a slight obsession with Dior, so Jennifer Lawrence is on the top of my list. At the same time, I am really excited to see Naomie Harris. Some of her moments … the Gucci, the Burberry … I can't wait to see what she brings for Sunday. Obviously Lupita is amazing. I actually work with her stylist.
In this age of sidebutt and underboob, how do you think you should expose your body parts without being blatant about it? A lot of fashion with sheer panels reminds me of skating outfits, actually. 
JW: I think sometimes less is more. I know that's weird coming from me! When looking at women on the red carpet, I love the collarbone. I love just a hint of cleavage, I love when the skin itself is so beautiful and rich. It's so lovely-looking. That's way more sexy than a curve-hugging boobs-out-over-the-top-of-the-dress dress. 
With this Access Hollywood gig, you're encroaching on territory long held by Joan Rivers. Anything you want to say to her?
JW: Joan Rivers is a goddess and I love her. I'm not a comedian, so I won't have that take on the red carpet. I think mine is more to appreciate the amazing artists that are going to be standing there in front of us. If I see Meryl Streep in my close proximity, I will die. I will faint. I will just die. I won't make fun of anyone, because it's not my place to, not yet anyway. And I'm just so excited to see what everyone wears. I've done some Oscars events before, with the Elton John party and the Vanity Fair party, but to actually be on the red carpet is going to be such a fun occasion. 
This interview has been edited and condensed.