Q&A: The Curator of Lean In's Feminist Stock Photos
Photo: Tara Moore/Getty Images
Sheryl Sandberg's organization, Lean In, announced a partnership with Getty today to combat the perpetuation of stereotypes about women through stock photos. You know: all those women climbing ladders in skirt-suits and laughing alone with salad.
According to the New York Times, "women," "business," and "family" are the three most-searched terms in Getty's image database. Now, when photo editors search these terms, they'll get cool moms (and dads!) with tattoos and tablets alongside the old baby in the briefcase. If they choose one of the 2,500-and-growing photos in the Lean In collection, 10 percent of the revenue will go Sandberg's foundation.
The Cut talked to LeanIn.org editor Jessica Bennett while she was in the car on her way to the MAKERS Conference in Los Angeles. Click through for photos from Getty Images' Lean In Collection.
The Cut: Admit it, you got this idea from our satirical "Feminism, According to Stock Photos."
Bennett: Well, it was in the works before. But I was pumped to see the Cut's take on the issue — it gave it momentum when it did come up.
Okay, so what did inspire it, then?
I'm a journalist and an editor; I worked at Newsweek. So I've seen firsthand how difficult it is to find imagery that doesn't suck. This is always something I've been kind of interested in. I worked with my friend Pam Grossman at Getty, who has the best job ever: She's an image anthropologist, studying image trends. We were talking about this over drinks one day and we were like, What could we do that would try to solve this problem? So we brought the idea to Sheryl and to her bosses at Getty. We were able to make this happen pretty quickly. But Pam and I were the ones sifting through dozens of pages a day, selecting images we found empowering.  
There are 150 million stock photos on Getty. How did you find these?
Getty is very familiar with their collections, so Pam's team started pulling some. I spent a full day scrolling through images. We would look for red flags. The images were diverse, not just in terms of industry, but in terms of race and body type and age. We wanted to make sure that men were included. There's a variety of reasons for why there is an abundance of the same sort of stock imagery, but now, art directors and photo editors, you have no excuse.
There's going to be demands for new and more imagery, so we're going to keep adding to the collection every month, and Getty has committed to creating new imagery as well.
Getty will be commissioning feminist stock photography?
Getty has launched two new grant programs, one for creative imagery and one for editorial photography, which will be a huge source of new photographers focused on female empowerment. It's their first women-focused grant program.
What do the photos that work for this collection have in common?
We wanted workplace images and images of girls, but most importantly we wanted characters and subjects who had agency. Women in powerful poses. Some of the women in the workplace are literally leaning in, leading discussions, in standing positions. Amy Cuddy's TEDTalk on power poses is blowing up, and you'll notice a lot of those in these images, which I love. No one is doing that hunched over, arms forward fashion pose. We wanted stuff that felt authentic and not cheesy. And there are no women climbing ladders.
No literalized metaphors at all! Sheryl Sandberg told the Times stock imagery is an important feminist issue because "you can't be what you can't see." What does that mean?
The data behind this is pretty clear. This is something we're surrounded by. The average girls sees 500 ads a day and that's probably a low estimate. This is the kind of stuff that is implicit and people internalize, but it's sort of hard to call out. In a lot of ways the effect of imagery can be insidious because, unlike outright sexism, you can't call it. There have been lots of studies about how women look to media for role models. If you're only seeing women either completely oversexualized or in secretarial positions, what is that teaching you about what you can be in the world? I think we need to show women and girls and men images that reflect reality and can be inspirational or aspirational.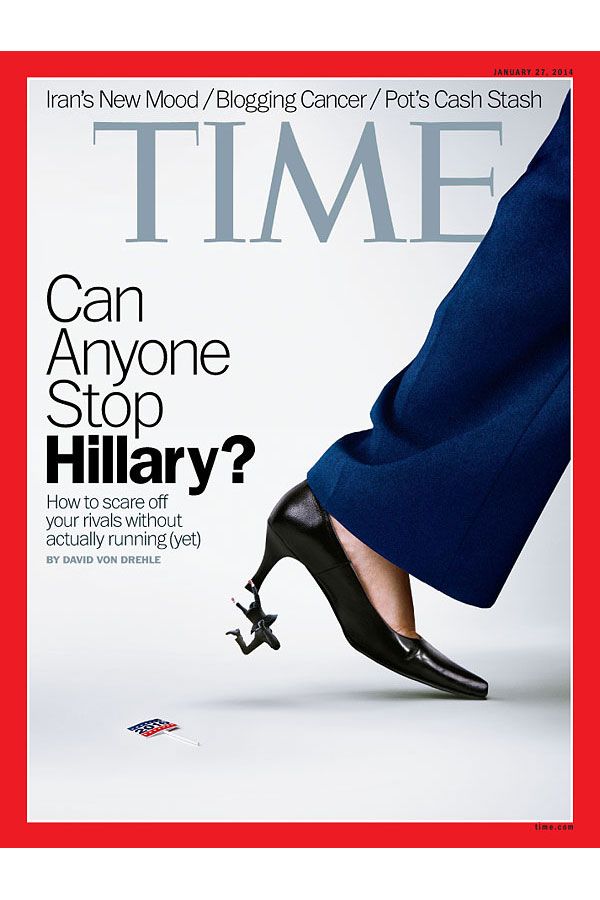 Yeah, it's not like anything radical is going on these photos.
It's reality; it's just not shitty. The larger problem is that the majority of art directors and the majority of photographers are men. I read in Fast Company that only 3 percent of creative directors are women, and then we know what the numbers look like in Hollywood and journalism. It's one thing up against the next and you get this chain reaction and ultimately you end up with a Time magazine cover about Hillary Clinton illustrated with a high-heel shoe squashing a man.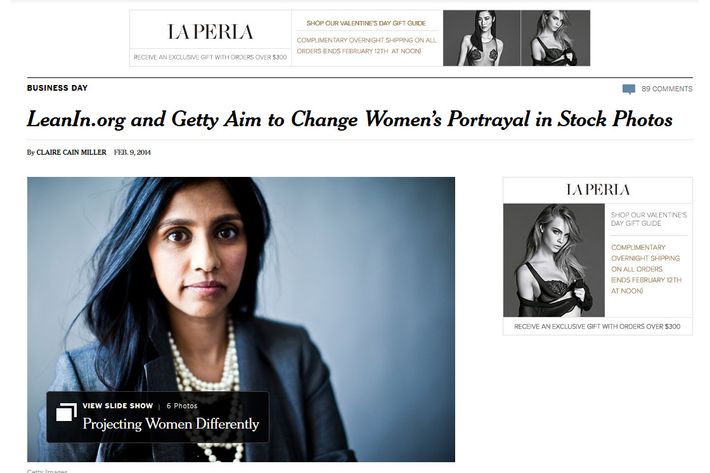 Did you see that the Times originally paired the Lean In story with a very traditional La Perla ad?
Someone just sent me the screenshot. I feel like that always happens.