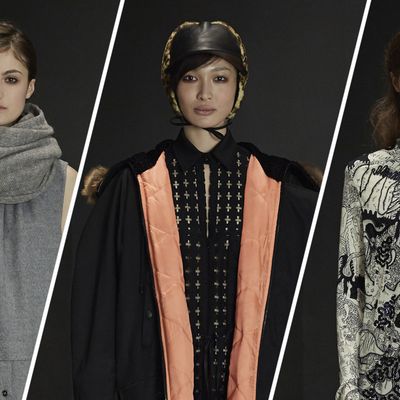 As much as one would like, not every fashion show can be as pleasantly intimate, calm, assured, and unhurried as the one that designer Rachel Comey presented on the opening evening of New York's Fashion Week. Like last season, she invited guests to Red Hook's Pioneer Works — a magnificent 19th-century industrial space of beamed ceilings and brick walls that has been converted into the Pioneer Works art center. Inside, she plied her guests with cocktails and dinner while models wearing her fall 2014 collection strolled between the tables.
Comey divided her show into three "courses." The first, filled with trousers and skirts in pale shades of sage and ivory, had subtle military references thanks to distressed twills and flap pockets. She mixed silks with cuddly mohair and alpaca. It was all accompanied by a lovely radish salad with grapefruit vinaigrette.

With the second course came a more enchanting group of metallic dresses, sparkle-trimmed swingy tops, collage-print trousers, and other frocks that delighted the eye while comforting the body. Meanwhile, the guests noshed on braised wild boar and roasted pumpkin.

Terrific outerwear dominated the finale, including practical parkas in midnight-navy that managed to look as glamorous as they did warm. And for dessert, there was a chocolate tart with winter citrus and ricotta.

With no small amount of fretful second-guessing, Comey debuted this style of presentation in September for her spring collection. Her initial concerns included the possibility that no one would come to Brooklyn for a fashion show (which we know is not the case), and that the people who did come would be so grumpy after their cross-river journey that they'd hate everything. But as it turned out, people were grateful for a bit of conviviality and a lot of nice clothes.

Then Comey, after a sigh of relief had a new worry: "How will I top that?"

But really, that wasn't necessary. Her accomplishment deserved an encore — or two or three. Comey had managed to escape the trap that confines so many designers. She found a way to present her clothes in a style that made them seem real but also special. "I've shown in Manhattan for ten years. I like an interesting venue, and I think I'd settled for a few years — just doing things in the format I felt people wanted," Comey said. "Now I'm doing it my own way, and it feels really good."

"It's hard to remember to follow your own instincts," she added. Isn't that the truth?

So often designers go searching for the most unusual space or strive for the most eccentric sort of presentation and the whole extravaganza comes off as overwrought and pretentious. And typically the misfire isn't because the designer is following his inner voice but because he is trying to live up to some preconceived idea of what it means to be edgy or creative. The dinner setting works for Comey because her clothes are rooted in the kind of life that lots of women live, whether in New York or Seattle, where Comey, it turns out, has quite the following. The clothes appeal to working women with a creative streak. And Comey, wearing an emerald top with a strip of sparkling threads across the bodice, along with a pair of cropped black trousers from her fall collection, was an even better advertisement than her models.

It was notable that there was no official photo area — no step-and-repeat with a backdrop blaring the names of assorted sponsors. Her guest list was eclectic. There were plenty of editors and photographers, but there was also Elizabeth Roberts, the architect of Comey's new store, Ella Marder, the program direct of Pioneer Works, artist Dustin Yellin who developed the exhibition space, friends from school. The results were conversations that roamed across popular culture but that ultimately came to rest on the experience of seeing Comey's clothes.

It is impossible, of course, for every designer to present their collection over dinner (or lunch or snacks) to 65 invited guests. Michael Kors, fashion's newest billionaire, has far too many stakeholders to accommodate anything so intimate. If the ever-influential Marc Jacobs proposed such a tiny show there'd be a full-blown fashion riot. L'Wren Scott favored a luncheon, but eventually that became old hat and she moved on. And surely if Comey had staged such an out-of-the-way, time-consuming presentation in the thick of Fashion Week, the response would have been positively shrill. Comey found a method and timing that works for her — that speaks to the kind of designer she is and the kind of clothes she creates.

As designers flee Lincoln Center in an effort to move away from an environment they see as increasingly focused on entertainment and impersonal commercialism, Comey has thrown down the gauntlet, challenging them to find new ways to present their work. Rethink how they tell their story. Food need not be involved. Cocktails either. Brooklyn doesn't have an exclusive on authenticity.

But if Lincoln Center's great flaw is its one-size-fits-all atmosphere — its treatment of fashion as interchangeable widgets, designers need not insist on putting their clothes on the equivalent of an assembly line.