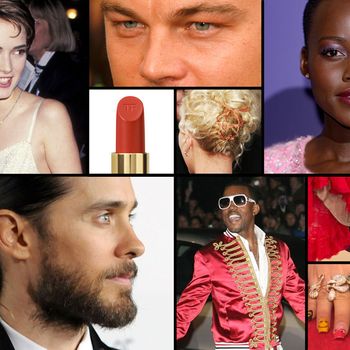 So you think you're ready for Sunday night's 86th Academy Awards red carpet? But are you really ready? Probably not. Lucky for you, the Cut has spent the week answering some burning Oscars-related questions you may not have known you even had: How will Jared Leto wear his man-bun this time? What do Johnny and Tara have planned for their Access Hollywood debut? What on G*d's green earth will it take to make the mani-cam die?
1. What do newly minted (and sure-to-be-excellent) Access Hollywood commentators Johnny Weir and Tara Lipinski have planned for the big night? Chanel, Rick Owens, and Tom Ford, it turns out. Cheryl Wischhover spoke with the runaway stars of the Sochi Olympics about how they're preparing for their new prime-time role and who plans to wear more makeup.
2. Has red-carpet style really changed that much since the '90s? It depends: While this throwback of Ellen DeGeneres at the 1999 Academy Awards harkens back to quite a different time indeed, Isabel Wilkinson found 15 Oscar dresses from the '90s that could definitely still work on the red carpet now. (Think Gwyneth, Winona.)
3. Will the world ever be put out of the misery that is the mani-cam? Allison Davis penned a compelling call to arms detailing the many reasons that airtime featuring disembodied human body parts must end.
4. Why do the men on the red carpet feel the need to be soooo tan? To be honest, this is still a mystery, but Kathleen Hou did us the favor of compiling the 35 most orange men in red-carpet history.
5. What would it look like if J.Law and Bradley Cooper swapped hair? The Cut's photo editors  determined that Bradley Cooper would be an ideal front man of a boy band.
6. Which celebrities win the award for the weirdest Oscar hairstyles? Cheryl Wischhover combed through 25 years of Oscar hairdos and ponders the most perplexing.
7. Do 4-year-olds care about the Oscars? Daughter of mommy-blogger Angie does, and has been collaborating with her mom to create paper renditions of her favorite red-carpet gowns, including Lupita's red-caped Golden Globes dress.
8. Who is responsible for all of Lupita's exquisite lip colors? Nick Barose, Nyong'o's makeup artist since the beginning, who spoke with Kathleen Hou about his inspirations and fondness for yellow makeup.
9. But what about Lupita's hair? Cheryl Wischhover compiled all of the "It" girl's award season hairstyles, from her exaggerated widow's peak to a sleek diagonal part.
10. Speaking of hair, what does Jared Leto have planned for his silky, ombré locks? Though his hairstylist says they were originally planning to chop it all off before the big night, he'll probably opt for a man-bun instead.
11. Does anyone ever look good in sneakers on the red carpet? Affirmative: Sally Field, M.I.A., and every child star ever. Look through our comprehensive slideshow of red-carpet sneaker moments to judge the rest for yourself.
12. Who has been the best-dressed person this season? Refresh your memory of the best looks Lupita, Sandra Bullock, and even Julia Roberts have worn so far during the awards circuit in our slideshow of the nominees' style highlights so far.
13. Will Jennifer Lawrence wear rubber bands again? What about Julia Roberts's business-casual? The Fug Girls are live-blogging the red carpet — so, be here at 5:30 p.m. Eastern and 2:30 Pacific on Sunday night.