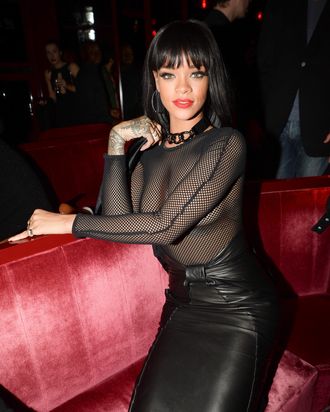 Photo: Joe Schildhorn/BFA NYC
A few weeks ago, in an interview with Vogue, Rihanna said that she decides every day whether she will wear a shirt or a bra, but never, ever both at the same time. Yesterday, she proved to be a woman of her word, wearing only a mesh shirt (albeit one with long sleeves for modesty, because long sleeves never stopped anyone from looking naked) to the Balmain after-party at the Crazy Horse in Paris.
Before arriving at the party, she wrapped herself in a tuxedo jacket — but it was altogether too much, and she quickly ditched it. Out and about, Rihanna, her boobs, and her nipples went, into the evening, enjoying their time immensely.