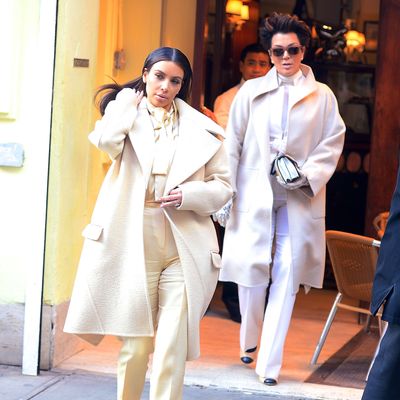 Photo: 247PapsTV / Splash News
My experience of mother-daughter shopping has been about the same since I was 11 years old. We head to the local Nordstrom and each decamp to separate sections the department store for an hour. When my mom is done, she comes over and assesses what I have chosen, generally by saying, "Are you sure you want to wear that? It's kind of short." Then I scoff and pout and we wander around in annoyed silence until someone suggests conciliatory fro-yo. And that is the natural order of things.
Well, it's a whole new world, according to a Wall Street Journal article about a new breed of hyper-compatible mother-daughter shoppers:
"Moms and their girls follow the same retailers on social media, trade photos of clothes and create joint pin boards of looks they plan to shop for, whether online or in a traditional trip to the mall," says the article. Stores are offering incentives to do so, like Sears' coupons for mommy/daughter consumer duos and the free in-store wifi at Kohl's for mothers and daughters to instantly share their adventures on social media.

According to a survey cited in the article, 75 percent of 12- to 19-year-old girls reported that their parents are "very involved" or "involved" in shopping. Meanwhile, mothers are adopting more "youthful" styles, because they're not "regular moms"; they're cool moms. As a result, "women's and girls' styles are converging."
There are a few possible versions of the strange future where women's and girls' styles are joined as one:
Ideal: Mothers and daughters wear the same thing, but in modified versions. They'll purchase the same Lilly Pulitzer top; teens can wear it with shorts, while their moms, suggests the WSJ, can try momppropriate white jeans and wedge heels.

Not ideal: Justice (formerly Limited Too), "focuses on hot fashion for 7- to 12-year-olds" while offering mothers "a wink and a nod," i.e mother/daughter crop tops.
I never thought something could make me long for the days of matching Laura Ashley ankle-length dresses with lace collars, but visions of moms and their first-graders attending playgroup in coordinating crop-top-and-high-waisted-shorts ensembles might do it.