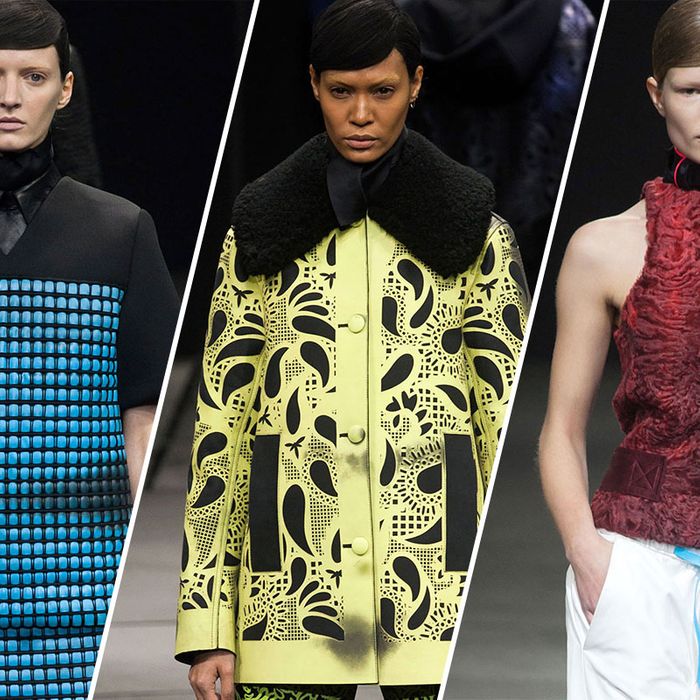 Designer Alexander Wang asked his guests to travel out to the Brooklyn Navy Yard for his fall 2014 show, a journey that, with the traffic created by the very hordes of SUVs, Uber cars, taxis, and shuttles all simultaneously headed to a single destination down a narrow winding street, took an hour. Wang asked editors, retailers, and various VIPs to do this, in part, because he could. The designer has arrived at a point in his career, thanks to the commercial success of his signature line and the critical success of his work at Balenciaga, at which he can make these demands on his audience and it will grudgingly acquiesce.  
There was nothing about the industrial hangar he chose that distinguished it from any number of vast warehouses more centrally located. Guests did not have the pleasure of gazing upon the Manhattan skyline as they waited for his show to begin. They could not look up and see twinkling stars. Instead, they sat, as they almost always do while waiting for a fashion show to begin, in semi-darkness and surrounded by black stage draping, industrial scaffolding, and a host of other impatient guests mostly with sour expressions. In the center of the in-the-round theatrical set, there was a Stonehenge of metal ducts and vents. 
But while the setting failed to impress, Wang's ambition did – from his use of fabric technology to his ability to help his audience see sportswear basics, military uniforms, and workwear in a new way. His sturdy tunics in charcoal gray were stitched with utility loops and flap pockets. His navy pea coats had so much muscle and swagger they could well have been plucked from a battleship. Shirts that shimmered like they were lacquered in rubber were tucked under strong-shouldered jackets. Sweaters were puffed up with three-dimensional patterns. Beautiful shirts in tie-silk prints billowed out as the models walked. Anoraks in lime, sky blue, and bold violet injected a jolt of joy into a collection that exuded an almost surly sense of masculine cool.
The models, with their hair slicked back and their eyebrows obscured, had the look of otherworldly, androgynous cadets – a battalion of tomboys, a phalanx of beautiful boys.
For his finale, Wang sent out a group of models each dressed in black laser-cut pullovers, slim skirts, and coats. The models stood on a turntable embedded in the floor and froze in a wide-legged, confrontational stance. As the turntable slowly revolved, it positioned each model in front of a heat vent. She braced for a wave of warm air that slowly brought the heat-sensitive fabric she was wearing to life, turning it purple, blue, and green. Mood rings all grown up.
It was a fine trick. Whether a woman actually wants to wear a heat-sensitive garment will require getting a few of them into rotation and finding out how they function in practical settings. Might a woman's black dress suddenly begin to blush if she gets a case of sweaty nerves during a dinner party?
Wang has clearly set his sights high, aiming not to merely put on a show of clothes, but to capture the imagination with drama, scale, and technology.  He has always been a designer who, at least on the surface, brimmed with confident swagger. But time, and perhaps his experience in Europe, seem to have focused most – but not all — of that energy on the clothes, and less on creating a cult of personality around himself. Some of the garments in this collection looked impossibly bulky. Some of the pullovers were just plain odd. But as a whole, the collection made a strong statement about Wang's willingness to try, to disrupt, to impress. 
Wang has achieved a stature that allows him wide berth to take risks and to think big. Much is expected of him. And in a kind of dramatic, self-flagellating way, fashion expects its most interesting and dynamic designers to be just a little bit impractical, confounding, and aggravating. His choice of venue, now that it has been revealed, seemed aimed more at ginning up conversation and hoopla than at creating an environment that would accentuate his clothes. It was the perfunctory chest-thumping of an ambitious designer on the rise.
The space was a disappointment. The collection captivated. But it would have done so anywhere.