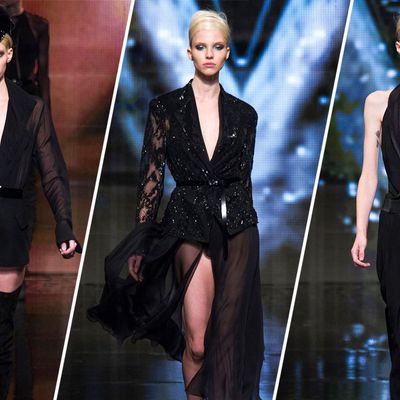 Something happens to designers who are lucky enough and savvy enough to have long and lucrative careers. They spend the early part of their professional lives striving mightily to find their voice and speak their mind in the most powerful, articulate, and eloquent manner possible. At their peak, they exude self-assurance and focus. They are impressively sure of just who they are and take pride in that valuable knowledge.
 
And then, they enter their later years — and suddenly begin stammering like nervous teenagers.
When Donna Karan launched her signature collection in 1984, with no small amount of psychic encouragement and financial backing from Tomio Taki and Frank Mori, she did so with a clearheaded idea of what women needed and how she could provide it: seven easy pieces.
 
Nurtured at the knee of sportswear dynamo Anne Klein, Karan was an advanced student in the needs of professional women. But she also understood that those women who competed on the same playing fields as men did not want to dress like them. Karan distilled a woman's wardrobe down to the essentials; she perfected the basics and then built upon them. That philosophy helped her grow a business that has become synonymous with New York City, with a certain kind of accomplished woman who refuses to suppress her sensuality in order to succeed in a boy's club. As a result, Karan became a kind of Zen mother to her customers.
 
But Karan's fall 2014 collection, which she showed in the morgue-like confines of a disassembled building on Wall Street, left one puzzled by the lack of aesthetic clarity on her runway — by the models' strange, patent-leather officer hats that had long strands of shearling protruding like a hairweave gone terribly wrong, and by the scarcity of heat for her guests in the middle of winter.
 
The presentation was a celebration of her 30 years in business, and it began with a film by multimedia artist Steven Sebring, in which images of women were blurred, folded, spun, and otherwise manipulated on a giant screen until they became abstract expressions of color and movement. In her program notes, Karan described her collaboration with Sebring as motivated by a desire to "express visually a woman's soul and spirit from the inside out." That is a high bar for any artist to set, and the resulting film was less an expression of spiritual identity than a gyrating acid trip of a Rorschach test.
 
The collection was dominated by sheer dresses and dresses slit high enough to reveal the bottom half of the bodysuits underneath them. Tailored blazers were buttoned over see-through skirts, and sheer evening gowns floated over the lean, taut bodies of the models.
 
It was tough making the connection between the confident, powerful, and sensual work that made Karan rich, famous, and beloved by her customers and the negligee-like dresses and skirts on her runway.
 
There is no argument here that designers shouldn't continue to evolve and challenge themselves — after all, Karan herself always says, "The journey continues." But why cede ground you worked so hard to sow? Why dismiss — or diminish — the relevance and importance of your past in pursuit of a fiendishly faddish, ill-defined destination?
 
Karan did not wholly forsake her sensual tailoring and seductive manner of cutting an evening gown that celebrates the body without revealing it. But the styling, the accessories, and the clattering soundtrack all did their best to distract from it.
 
Karan's show was especially disheartening because it came at a time when her work is particularly influential on a generation of designers who were still toddlers when she was coming into her own. The spring 2014 Givenchy collection, with its heavy reliance on draped jersey in earthy tones, recalled Karan's understanding of the female form. The strong-shouldered, power jackets at Jason Wu's fall 2014 presentation were reminiscent of the kind of work that was celebrated in her 1992 female-president advertising campaign. That work still resonates and informs the fashion industry in its pursuit of body-conscious tailoring, in its dialogue of sensuality versus sex appeal. At a time when the political media has all but inaugurated Hillary Clinton as the next president, Karan's unique exploration of female power is exquisitely on-point.
 
Instead, young designers, such as Joseph Altuzarra and Mary-Kate and Ashley Olsen, are filling that fashion void. Altuzarra has defined an aesthetic that is sophisticated and strong, but with a sense of humanity and humor. And the Olsens, with their label, The Row, celebrate the luxury of simplicity at a time when everything and everyone have gotten over-complicated.
 
Altuzarra's fall collection focused on lush, double-faced coats that came in combinations of sober navy and joyful cobalt, cleanly tailored jackets in banker hues with lapels lined in fuchsia, and gray dresses piped in bright orange or magenta. Altuzarra managed a fine balancing act for fall, one in which he recognized that a serious-minded woman is not humorless and a happy-go-lucky woman can also be one of depth and sobriety.
 
Altuzarra did not put a lot of looks on his runway. He didn't need to. His show was focused. His voice was strong. And his point was clear.
 
The Row, for fall, was filled with oversize shapes, textural fabrics, and an emphasis on ease. They created clothes that are the equivalent of a security blanket. Their work has a tendency to completely hide the body; it is more concerned with the way in which clothes make a woman feel than how they make her look. That is not to say they aren't interested in the image in the mirror. They are. But in the same way that Karan has always placed special emphasis on cashmere because of the way in which it caresses the skin, the Olsens are more fascinated by the feel of a giant fur-cashmere sweater than with, well, just how enormous it makes even the tiniest woman appear.
 
At the finale of their show Monday morning, they brought the members of their design team out to share in their applause. It was a lovely gesture. After all, no designer can create a collection alone.
 
Still, the most compelling clothes are almost always those that come from an individual with a clear, unique vision. In the fashion industry, defining that point of view is only one of many hurdles. Allowing it to evolve gracefully and organically as the culture changes is another challenge.
 
But refusing to see the value, relevance, and beauty in one's own defining aesthetic is a self-inflicted wound.