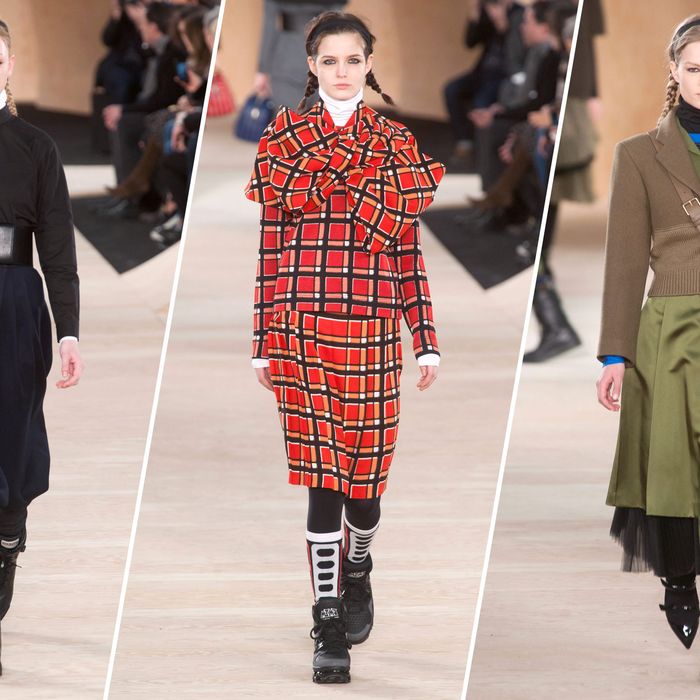 Part of the magic of fashion occurs when a designer creates a fanciful world that is so clearly defined, so utterly detailed, that he or she not only convinces you that it is real — but makes you want to live there.
In two recent shows this week, audiences saw one world under construction — and one filled with intriguing possibilities. Another was a perfectly crafted paradise that made one feel both envious and delighted.
The new creative team at Marc by Marc Jacobs tossed a lot of imaginative ideas onto the runway at Pier 36 Tuesday evening, but they never coalesced into a singular point of view. Most of the inspiration drew overtly from Japanese comic books with their eye-popping colors, kitschy violence, and kooky characters. But Luella Bartley and Katie Hillier also mixed in full schoolgirl skirts inflated by pleated petticoats and oversize sweaters that looked as though they might have been inspired by a vagabond princess.
The whole thing was a confusing mishmash of ideas; some elements quite pretty, others simply strange and awkward. But all of it was interesting. They made one want to see more. And to be fair, this is only their first season at the helm. It takes a while to create a universe.
As the first models marched along the wide, expansive runway, they resembled pig-tailed superheroes in wrestling boots, moon boots, boxing belts, knee-high socks, and jackets emblazoned with anime characters. Much of the strangeness was in the styling. (Isn't it always?) Pleated trousers that looked like they might have a beautiful, fluid drape were tucked into knee socks so that they resembled golfing britches. Super-wide belts threw off proportions and made the models look like attenuated ninjas. And, back to the knee socks: Only elementary-school girls actually look good in knee socks — everyone else looks a bit like cougars on the make.
Still, the arrival of Bartley and Hillier immediately gave Marc Jacobs's second line a jolt of pop-culture camp, taking it from a whimper to a roar. The collection looked younger and quirkier than it has in the past. It had a tough-girl attitude, as evoked by the models who stomped their way around the wide, open warehouse in their graphic T-shirts, martial-arts references, and sarcastic, hyper-feminine riffs.
There was something quietly artful about the old Marc by Marc Jacobs. But it is a testament to the brand's namesake that he held little sentimentality for the label's past. Instead, he sat front row and watched this new vision unfold, one that speaks to a consumer who is more global, more defiant and whose artful endeavors are more like to emerge from a computer than an easel.
If the new world of Marc by Marc Jacobs is still being defined, the universe of Michael Kors remains reassuringly unchanged. To a soulful soundtrack of "California Dreamin'," Kors's models walked down a wooden-plank runway on Wednesday morning draped in fur and cashmere. With artfully messy hair, rosy cheeks, and pleasant expressions, they not only evoked a world of wealth and privilege but also one in which its inhabitants are well aware of their good fortune.
Fall 2014 was one of Kors's most beautiful and luxurious yet, with its tie-dyed mink coats, fox vests draped over embellished-silk dresses, cashmere sweats, and thick sweaters in oatmeal and gray. Kors loves contrasts, and he mixed menswear-inspired Glen plaid with fragile silks, paired sequined skirts with heavy pullovers, and managed to keep a fringed-suede coat from looking like a wild West costume by pairing it with flannel culottes. Kors made quite a convincing argument for culottes, a silhouette that typically makes a woman's legs look stumpy and exist in a what's-the-point limbo between skirts and trousers. Kors's versions were wide, cuffed, and sophisticated.
The success of the Michael Kors brand, now that its stock is publicly traded, has catapulted the designer into a level of wealth — billionaire! — that allows him to live the life of private jets, Aspen lodges, and fieldstone fireplaces that has always inspired his work. One half expected to see $100 bills spilling out of his jacket pockets as he dashed down the runway to take his bows.
There has always been such joy in the dream that he was selling, one worried that once it became a reality, low-grade ennui would set in. But there is no cynicism in the world that Kors creates for the runway. It is pure, unabashed delight in luxury, wealth, and a coddled existence. The result is that while you might wish you had such good fortune, you don't begrudge those who do.